Louvre Windows for Natural Ventilation from Safetyline Jalousie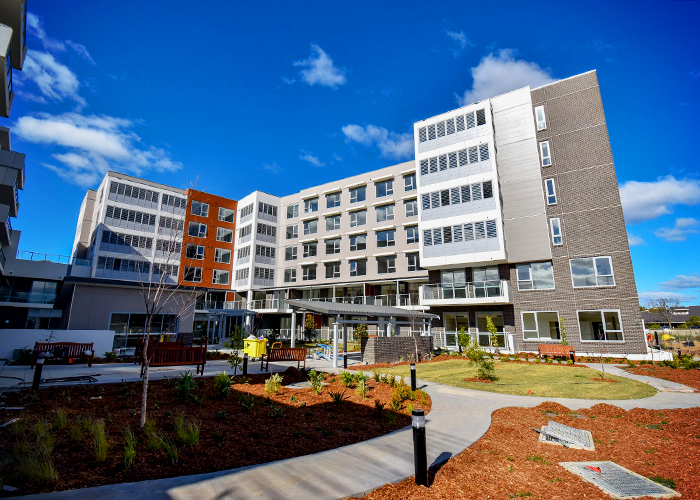 The Royce, NSW
Meeting the health and safety needs of aging citizens are among the key objectives in the design of aged care facilities. For this reason, Sydney based architects Calderflower chose Safetyline Jalousie louvre windows in their thoughtfully considered design of the Royce. The luxurious development of 145 independent living units and a 126 bed aged care facility forms part of the Penrith Panthers master plan in western Sydney and offers a new standard in retirement living.
Having successfully used Safetyline Jalousie on previous projects, Calderflower were confident that Safetyline could offer a ventilation solution that would assist in reducing the reliance on mechanical forms of ventilation as well as meet the health and well-being of those inhabiting the facility.
A total of 260 louvre windows were specified throughout the project. The majority were installed from floor to ceiling on the extra-large balconies of the independent living units providing an abundance of light, ventilation, and an indoor/outdoor feel. Others were incorporated in the common dining and living areas.
Natural ventilation promotes passive cooling and provides an effective relief path for carbon dioxide and other airborne contaminants to be removed from the building. Preventing the spread of infection is particularly important in aged care facilities so the window choice and placement was carefully planned to ensure adequate ventilation and humidity control.
Unlike sealed buildings which maintain constant temperatures, thermal comfort and a greater level of satisfaction can also be achieved when occupants have a degree of control over their environment. Louvres were preferable in this case for their ability to adjust their openings and the amount of airflow using a simple and easy to operate lever mechanism.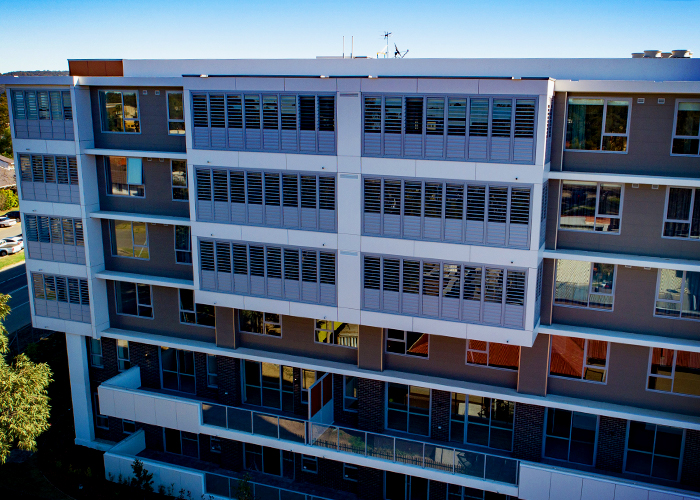 In addition to the health benefits associated with natural ventilation, the safety features offered by Safetyline Jalousie exceeded those of other window options. The system's unique impenetrable security system allows the windows to be kept open at any time, day or night, with complete peace of mind.
There is also no danger of falls though Safetyline Jalousie louvres or risk of injury from exposed glass edges, another critical factor that was considered by the architect. Each blade is framed on 3 sides and pivots from the back edge with openings of just 106mm between each blade.
When choosing windows or louvres for ground floor or high above ground level, the Royce demonstrates that specifiers can be confident that Safetyline Jalousie will meet all of their performance, health, security and safety criteria for aged care facilities.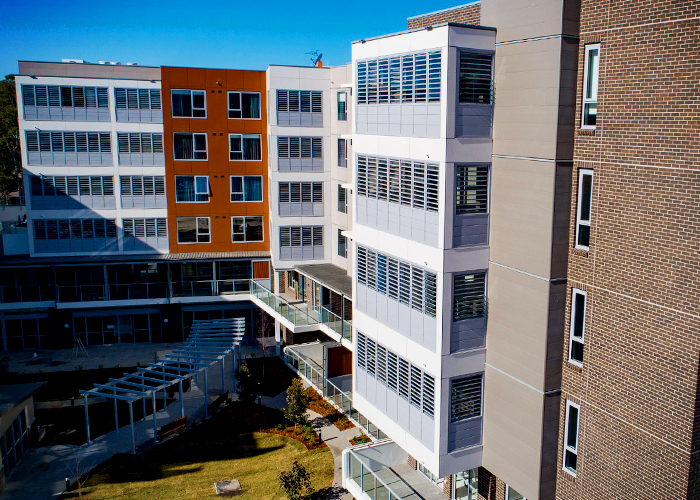 Project Specifications
Quantity Supplied: 260
Height: 1754mm
Width: 800mm
Colour/Finish: Powder Coat Citi Pearl Matt YY245A
Louvres: 6mm Clear Toughened Glass
Operation: Standard Levers
Architect: Calderflower Archiitects
For more information regarding louvre windows for natural ventilation from Safetyline Jalousie, visit safetylinejalousie.com.au.