Keep the heat on the street with The Australian Trellis Door Company's trackless barrier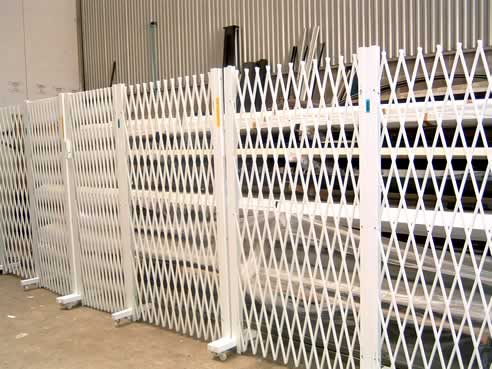 The Australian Trellis Door Company's (ATDC) S04-1 Mobile Trackless Barrier is proving to be an outstanding success.
Being completely trackless, its applications are many and varied. It operates on a series of steel reinforced trolleys and can be wheeled away during the day and stored out of sight.
It is very economical and provides enormous flexibility, allowing proprietors to close off awkward openings which are typically very difficulty to secure such as shopping mall walkways and kiosks, escalators, carparks, function centres, sporting facilities, crowd control, partitioning and temporary tenancies.
The S04-1 is suitable for securing factory loading docks, allowing the free flow of fresh air during the heat of summer, whilst protecting the premises from unwanted intruders whilst trading.
The system is also very useful in providing more effective warehousing of goods, creating protected and secure areas and can assist in providing safe work areas by limiting access to dangerous plant and equipment.
The system can cover an unlimited width without the necessity of any mullions and the door can also traverse a curved aperture.
A shadecloth backing is an added optional feature to prevent people putting their hands through the door and offers greater privacy.
ATDC offers a wide range of security products. Our Company has national representation and our qualified team of staff provides a complete service from a free measure and quote through to design, consulting, and installation and maintenance.
We are pleased to announce the launch of our new website detailing all of our quality products, customer details, photographs and general information about our company.