Radiant Heating 101 from Devi Heating Systems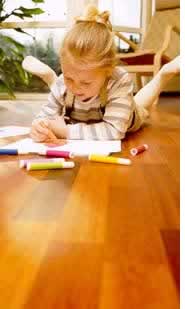 In Convection Heating a heating body is used to heat up the air, which then distributes heat as it flows over the surfaces of the objects in the room (walls, furniture, etc.). Radiant Heating Systems, however, distribute heat mainly by radiating it, just like the Sun! Electric radiant heat warms objects directly with long wave electromagnetic energy. Radiant systems do not try and heat the air, rather they warm large surfaces such as the floor or ceiling. It is these surfaces that in turn warm you and all the other solid objects in the room.
Heat is circulated through electric heating elements (either cables coated with electric insulation, fabric mats with cables woven into them or foils) buried in the floor construction or installed within the ceiling. The floor/ceiling absorbs this energy and then gives it off as radiant heat. Electric radiant heating systems can be used to heat an entire house or simply provide spot comfort in kitchens and bathrooms.