Eco Bathroom in Commercial Building from GWA Bathrooms & Kitchens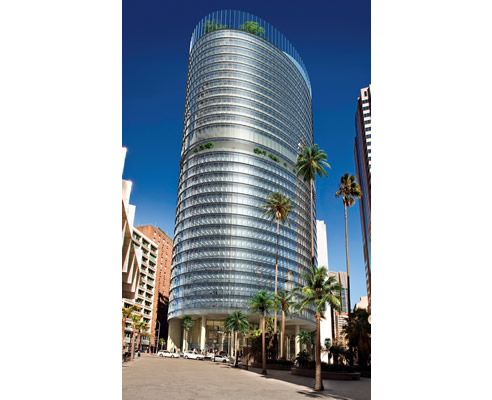 GWA Bathrooms & Kitchens Deliver Ongoing Environmental Benefits to Sydney's Ground-breaking Sustainable Development 1 Bligh.

Sydney CBD's major landmark 1 Bligh has received outstanding recognition amongst industry elite, winning countless awards for its innovative building approach which has combined cutting-edge, sustainable design with the latest in efficient technology and state-of-the-art water saving fixtures and fittings, supplied by GWA Bathrooms & Kitchens. The award-winning development, co-owned by DEXUS Property Group, DEXUS Wholesale Property Fund and Cbus Property, is located on one of the county's most prominent sites near Sydney's Circular Quay and reflects the latest concepts in workplace design and facilities, setting a benchmark for commercial developments worldwide in sustainability. The development has been designed to reap significant cost savings and environmental benefits and symbolises a new way forward in sustainable commercial development. Designed by Architectus of Australia in conjunction Ingenhoven of Germany and constructed by Grocon, 1 Bligh achieves a 5 star NABERS (National Australian Built Environment Rating System) Energy rating and a 6 star Green Star rating - the highest Green Star rating for a commercial development across NSW. The building has received plenty of awards including the prestigious Council on Tall Buildings and Urban Habitat award for most outstanding new tall building in Asia and Australasia, the first Australian tower to do so, as well as three awards from the Australian Institute of Architects for best commercial building, sustainable building and urban design. Every aspect of the 27 level tower, from the full height glass atrium to the energy efficient double-skin façade has been designed with enhance sustainability performance. The development uses an innovative tri-generation system which combines gas and rooftop solar thermal collectors to generate cooling, heating and electricity and reduce the building's environmental footprint. Water usage was predicted to account for a large proportion of the building's costs, so black water recycling was incorporated into 1 Bligh, which has reduced water consumption throughout the building by providing clean, recycled water for the bathroom flushing systems. Recycled water is also used to irrigate 1 Bligh's feature ten metre high green wall and plants throughout the development. Water conservation is further maximised through the installation of the latest in bathroom and kitchen fittings. Australia's leading supplier of kitchen and bathroomware, GWA Bathrooms & Kitchens, worked collaboratively with Architectus and Grocon to supply a full schedule of fittings including reduced flow tapware and water saving toilet suites. T he installation of these fixtures and fittings, in addition to the building's innovative recycling technology has saved approximately 100,000 litres of water per day and helped 1 Bligh meet its 6 Green Star rating. Mr Geoff Briggs, Services Manager at Grocon said, "With environmental sensitivity at the core of the development, choosing highly efficient fixtures and fittings to minimise water consumption was critical. "As a German company, Ingehoven had selected European bathroomware in the original design. However, in order to minimise potential costs and ensure swift delivery of the specified product, Grocon found fixtures and fittings from GWA be the perfect alternative, matching the European products in both style and functionality, whilst at the same time achieving key practical and environmental sustainability requirements." Fowler Newport Invisi Series II™ Wall Faced Toilet Suites have been used throughout the building, boasting a 4.5L full flush to achieve a 4-star WELS rating for water efficiency. In line with the latest trends in contemporary bathroom design, the suite features European inspired detailing with clean, smooth lines. To achieve ultimate water saving in 1 Bligh's accessible bathrooms, the Caroma Care 800 Invisi Series II' Toilet Suite has been utilised for its award-winning Caroma Smartflush® technology, which gives it a WELS 4-star rating. The Caroma Care 800 Invisi Series II' Suite has been complemented with the visually striking yet practical Caroma Integra Wall Basin. Male bathrooms also feature the Caroma Cube 0.8 Litre Electronic Smartflush® urinal suite, which has been perfectly designed for maximum water conservation - boasting a WELS 6-Star rating, which has been achieved through the integration of Caroma's Smart Demand Technology which detects the user and determines the flush mode accordingly to minimise water wastage. Energy efficient tapware from GWA Bathrooms & Kitchens is also featured in the bathrooms at 1 Bligh, including the Caroma Liano Basin Mixer, which features a square inspired outlet and platemount designs that offers a distinctive, high quality look to complement the outstanding WELS 5-star rating that the mixer achieves. The bathrooms at 1 Bligh also feature the Irwell Pin Extended Care Lever Basin Mixer, specifically chosen for its stylish chrome finish, sleek lever design and perfectly engineered flow technology that give the mixer a 5-Star WELS rating. Mr Briggs added, "All products perform well, reduce water and energy usage and have ultimately met the building's environmental standards. The level of service from GWA and the reliability of supply was also fantastic and we will certainly look to use GWA products again in future developments."


GWA Bathrooms & Kitchens Profile
1300 227 662
Suite 102, Level 1, 7-9 Irvine Place, Norwest Business Park, Bella Vista, NSW, 2153