Mosaic Tiles Certified for Swimming Pool Use from MDC Mosaics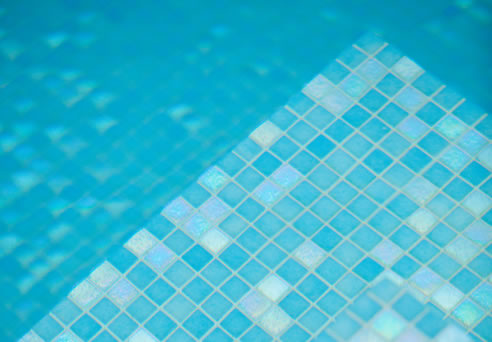 More mosaics now meet Australian standards for use in swimming pools.
Everyone is very aware of the benefits of using Dot mount and film face mosaic tiles in swimming pools. The back of the tiles are left clear for maximum adhesive coverage. Now other long standing and trusted big players have improved the way they mount their mosaics and are fully certified for use in swimming pools.
Bisazza - A long held customer favourite - have raised their game with their new Hot Melt system that has been tested by the CSIRO and exceeds the Australian standards for adhesion.
They have applied the new system to their entire 2014 pools collection. This range of specially selected glass mosaic tiles has the beautiful colours and textures that we expect from Bisazza, a company known for their quality and luxury range of glass mosaics.
Hisbalit is a new glass mosaic tile range to the Australian market. These glass mosaic tiles have been manufactured in Spain for the last 50 years and also use their own unique Hot Melt system that has been tested by the CSIRO and exceeds Australian standards.
Hisbalit have a carefully selected range of colours that complement use in Australian swimming pools. These tiles not only match already established mosaic brands in colour range and ease of use but come in at a great price to keep your quotes competitive.
At long last you now have a much wider range of top quality glass mosaics with a great range of colours and textures that you can tile in swimming pools with out the stress and worry that the tiles won't stick.
You can now use these selected pool ranges of mosaic tiles in swimming pools knowing that the product exceeds the latest Australian Standards for adhesion.
Don't get stuck with offering a narrow range of tiles to your customer. You can now offer a much wider range of colours and texture options at more than competitive prices from new and well known, reputable tile companies.
We have samples on hand to give you so you can see the quality and new hot melt systems for yourself.
To find out what your Competitive Trade prices are for these new and improved pool safe mosaic tiles simply ring or email MDC Mosaics & Tiles.
You will be pleasantly surprised.