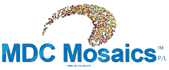 Company Profile
At MDC Mosaics and Tiles we specialise in porcelain, ceramic, mosaic tiles for pools and waterlines, pavers, and natural stone.

We have carefully chosen our tile ranges to suit current and classic trends in colours and texture. The quality of the product is also important to us and we have selected only the best tiles available in the market.

We believe that the investment you are about to make in choosing the right tiles should give you peace of mind at the end of the project- knowing you have made the best choice with the help of people who have years of experience with tiles and know the products.

Call us to make an appointment with Glen, who will show you our ranges and guide you in your selection to get the perfect mix of colour and texture for your pool and entertaining area. Our showroom is open for you Monday to Friday 7am to 5pm and Saturday 10am – 2pm.

MDC Mosaics and Tiles
02 9524 1399
Rear 235 The Boulevarde, Miranda, NSW, 2228
* If you would like to update the text on your profile page, please contact Spec-Net.