Preston Hire Captain Starlight's Rocket VIVID 2016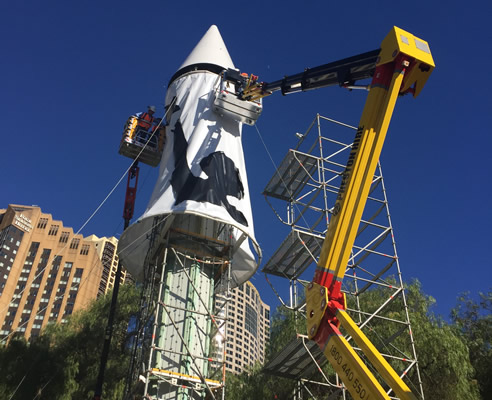 Dear Earthlings!
Both Markus and Marika Preston, attended a 'Thank you' evening for our recent donation for use of 1 x SuperCranes and 2 x SuperLift™ for the setting up of 'Captain Starlight's Rocket' for the Sydney VIVID festival, supporting the Starlight Foundation.
A few months ago Preston Hire was approached by Lend Lease to provide cranes to assist with installing Captain Starlights Rocket, Preston Hire donated 1 x SuperCranes and 2 x SuperLift™ to assist with the project.
Paul Mandeno (National Sales Manager), Steve Bowden (Hire Coordinator) and Jason Powter (National Sales / BDM SuperSiteStorage™ & SuperLift™) handled this project with Jason leading the charge and even coming down to Sydney and staying until the project was completed.
If you follow Instagram our Preston Hire account @preston_hire you will have seen our SuperCrane and SuperLift's assisting in installing The Rocket, it certainly one of the more interesting jobs Preston Hire have been involved in.
The Starlight Foundations mission is to brighten the 'lives of sick kids'. They state that "When a once-bright life becomes dulled by needles, hospital visits and painful treatments, Starlight helps sick kids forget their illness and re-discover the joy of childhood".