Clear Laminate Louvre Facade for Schools from Safetyline Jalousie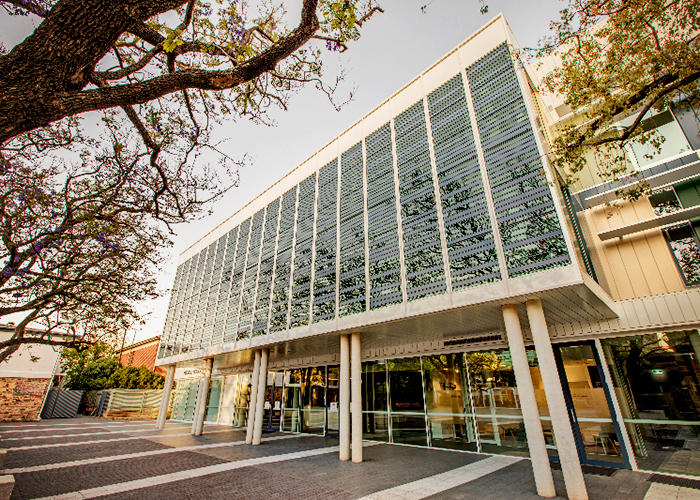 Pulteney Grammar School - Middle School Redevelopment, SA
Quantity Supplied: 44.
Height: 3090mm (7 Blades).
Width: 1218mm.
Colour/Finish: Zeus White Gloss.
Louvres: 6.38mm Clear Laminate.
Operation: Motorised - LDF100 Drives.
Architect: JPE Design Studio.
Builder: Mossop Construction & Interiors.
JPE Design Studio and South Australian Anglican education worked closely with Safetyline Jalousie to create the unique façade that is a key design element at the Pulteney Grammar Middle School campus.
The majority of the western façade is made up of automated louvres allowing for ventilation and views over the scenic quadrangle. The facade compliments the light, airy and colourful learning environments that have been created throughout the campus.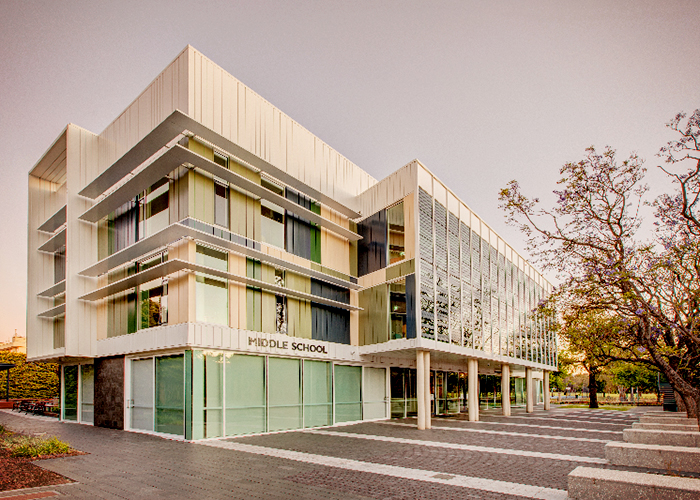 The design aesthetic for this project was paramount. To achieve the effect envisaged by the architect, Safetyline Jalousie used a combination of randomly placed glass and custom flat blade aluminum louvres. The aluminium was powder coated in various blue and green hues to create the interesting mosaic look which filters natural light into the second story lounge area.
In addition to the aesthetics, the architectural team were impressed with the multiple benefits that Safetyline Jalousie could offer to counteract the concerns that had arisen in their design. These included fall prevention and risks associated with impact.
Without making any modifications to the system, Safetyline Jalousie could be used with confidence having test data and certification from accredited testing laboratories.
Today the unique and exciting design has been well received by the school and the community. It also reflects how the design of learning environments is being transformed to create inspirational spaces for both students and teachers.