Louvres for Sydney's York & George from Safetyline Jalousie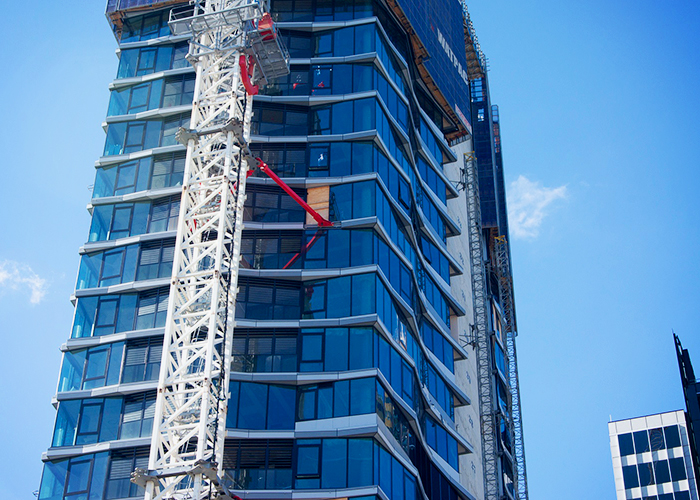 York & George, Sydney
Quantity Supplied: 720.
Height: 1009mm (7 Blades).
Width: 1200mm.
Colour/Finish: Eternity Charcoal Pearl Satin.
Louvres: 6.38mm Clear Laminate.
Operation: Standard Levers.
Architect: John Wardle Architects.
The York and George building weaves into Sydney's skyline. As it soars upwards, successive floors shift in and out to create shimmering folds across its surfaces. Standing 137m tall, within its 40 floors lies 199 apartment units. There is also a host of retail opportunities on the ground floor.
From an architectural point of view, the building aims to be one of Sydney's most striking. However, developing high rise buildings presents an array of challenges for architects, engineers and builders. Key among those challenges, particularly in a heavily built up area like Sydney's CBD, is providing ample light and natural ventilation. For this, buildings rely on their windows. But, options become somewhat limited because many window types cannot meet fall prevention measures and the significantly higher performance ratings that are associated with high rise construction.
The team behind the York and George project had to confront such issues and turned to Safetyline Jalousie to help them.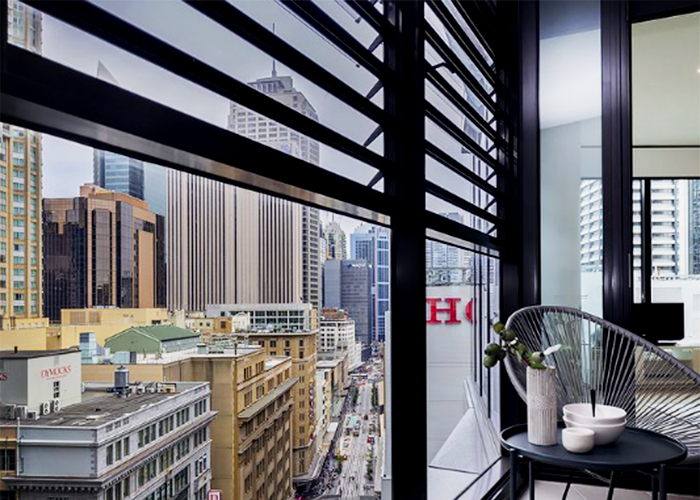 John Wardle architects specified a total of 720 louvre windows to be installed in the balconies of each apartment and also on the building's podiums. The nature of louvre windows ensures that maximum ventilation is achieved and reduces the reliance of manufactured air. But the features unique to Safetyline Jalousie that were pivotal in the architect's decision were;
The system's impressive wind and water ratings, as the effects of wind and water heighten as a building gets taller;
The ability to use laminate glass, preferable for high rise construction because it reduces the potential risk of falling broken shards;
The sound reduction of 33RW which would allow residents to shut out the noise of the bustling city below;
Compliance with fall prevention, even when the louvres are open to full capacity; and
Ease of installation which was ideal for the nature of the build and assisted in meeting the project's timeline.
The York and George project highlights some of the key issues high-rise buildings must confront. Windows need to provide natural light and ventilation and protect against the harsh elements. They also need to confront the performance and safety concerns that come with installation at heights.
Safetyline Jalousie's louvre windows exceeded every requirement placed in front of them and can now be seen soaring high into Sydney's skyline.