EzyTube has many advantages over conventional concrete columns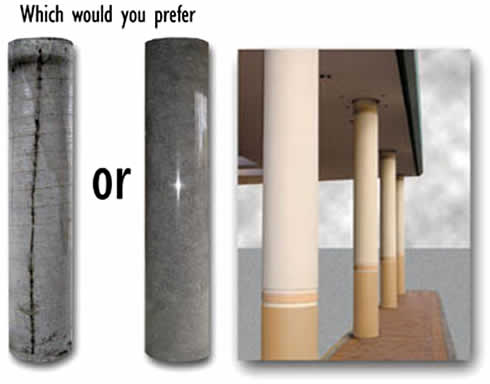 Versatility in Finish Natural high gloss finish; accepts matt, satin, gloss and textured paints; tailor made features such as the above recesses are possible.
CUSTOM CUTTING
EzyTube can be quickly and accurately custom-cut using a simple knife or blade, to connect with beams, stair-cases, walls or any desired forms.
Cut Outs, Special Forms
EzyTube is unique in that it can be easily cut to accommodate varied adjoining surfaces/structures (eg. beams, steps, edges, conduits etc). Most conventional formwork tubes will tend to spring out of shape when cut, but EzyTube will maintain its form.
EASE OF ASSEMBLY
EzyTube can be securely interlocked with re-enforced tape to form columns up to a maximum height of 7.5 metres.
MOBILITY
Portable and lightweight, EzyTube makes assembly and transport effortless.