Online Fall Protection Training Solutions from Capital Safety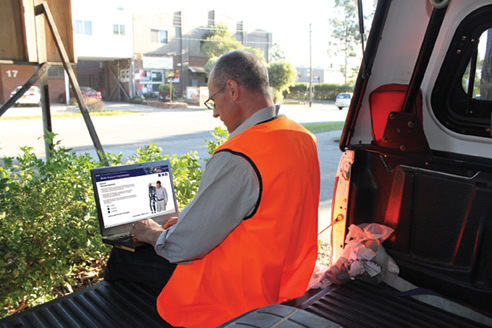 CAPITAL SAFETY AUSTRALIA INTRODUCES ONLINE LEARNING FALL PROTECTION TRAINING SOLUTIONS
Height Safety Training available online, anywhere, anytime!
One of the world's leading manufacturers of fall protection, confined space and rescue equipment, Capital Safety, has announced the launch of their NEW Online Learning Height Safety Awareness Unit of Study.
Capital Safety has been delivering its comprehensive fall protection training courses across the globe for the past 25 years and has developed a reputation for high quality outcomes and innovative teaching techniques. The company has teamed up with Electrain to provide its nationally recognised training course, now available for partial completion in an online format.
The Online Learning Height Safety Awareness Unit of Study covers the basic height safety awareness theory in line with AS/NZS 1891.4:2009. Participants will be introduced to content covering height safety issues such as the hierarchy of control, basic legislative requirements, fall prevention, work positioning and fall arrest components including: anchor systems, fall protection harnesses, connecting means and rescue planning.
"Our Online Learning fall protection training enables employers to provide training in an alternative learning environment, with the added advantage of being able to provide the theory component of courses accessible to anyone at anytime" says Emmett McGregor, Training Manager for Capital Safety, Australia and New Zealand. "The beauty of online learning is that it can be undertaken anywhere at any time, from work or home; in fact anywhere a web enabled device can connect to the internet."
Online learning can reduce course completion times by up to 65% in comparison with face to face learning, allowing workers to receive the same standard of height safety training, in less hours, in a self paced learning environment. To sample a free limited demonstration of the training, register your details with us at www.capitalsafety.com.au/demo and we can arrange for an obligation free, limited access pass.
For more information regarding Capital Safety's NEW Online Learning Height Safety Awareness Unit of Study call us on 1800 245 002 (AUS), 0800 212 505 (NZ) or visit www.capitalsafety.com.
Capital Safety, the world's leading designer and manufacturer of height safety, confined space and industrial rescue equipment with 11 operating sites worldwide, is home of the DBI-SALA and PROTECTA brands.