Environmentally Friendly Sealer Meta Créme from Dry-Treat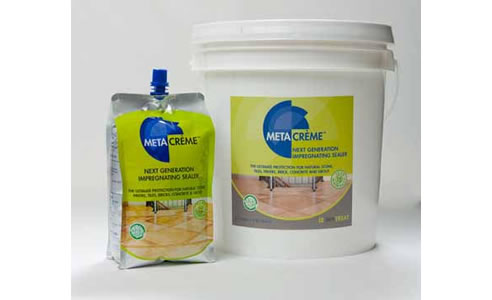 META CRÉME™ - Dry-Treat's cutting edge technology
META CRÉME™ - Dry-Treat's latest innovation in sealing technology is the world's most advanced environmentally friendly sealer for protecting natural stone, tile, paving, bricks concrete and grout.
META CRÉME™ is the next generation of sealing technology and meets the strictest carbon emissions (VOC) standards from around the globe, including: The LEED standard created by the USA, UK and World Green Building Councils, EU VOC Directives 2004/42/CE and 1999/13/EC.
META CRÉME's specially engineered sealing molecules are hundreds of times smaller than those in other impregnating sealers and penetrate deeply into the pores of even dense materials such as granite. META CRÉME™ then bonds inside the pores by a process of chemical reaction, becoming a permanent part of the material without affecting its breathability.
META CRÉME™ creates a deep water and oil repellent barrier giving superior stain protection as well as keeping water (with dissolved minerals and impurities) well away from the visible surface. The META CRÉME™ barrier protects against salt efflorescence, picture framing, spalling and freeze-thaw damage
META CRÉME's revolutionary cream formula is also low odor, non drip (important for vertical surfaces) and is especially easy to apply - one coat with a foam paint roller. META CRÉME™ is permanent and is backed by a 15 year performance warranty certificate when applied by a Dry-Treat Accredited Applicator.
All META CRÉME™ packaging is recyclable. The small DIY META CRÉME™ packs are award winning low carbon footprint foil packaging, using a fraction of the plastic of traditional containers and a fraction of the energy to transport the empty packaging to the factory for filling.
For more information on META CRÉME™ please visit www.drytreat.com