Thermal Polystyrene Cladding System: PoLYRENDER from CHAD Facades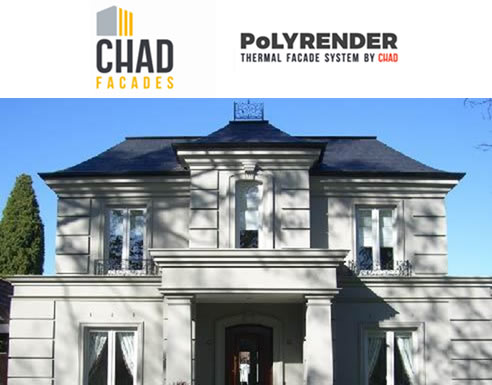 The PoLYRENDER thermal polystyrene cladding system is one of the most in-demand products from CHAD. Developed by CHAD's Facades division, PoLYRENDER provides a triple finish that insulates, decorates and protects the exterior surfaces of building structures.
Up Close with PoLYRENDER
CHAD Facades designed PoLYRENDER to be a multi-layered thermal polystyrene cladding system for wall constructions. PoLYRENDER can be divided into three components, namely the PoLYRENDER panel, the base coat, and the finish coat.
The PoLYRENDER panel is composed of Grade M expanded polystyrene (EPS), perfectly suited to rendering and cladding applications. The building material is widely recognised for its superior thermal capabilities, enabling PoLYRENDER to help maintain comfortable indoor temperatures from the outside. In a thickness of 75mm, PoLYRENDER has the capacity to be three times more thermally efficient than a conventional brick veneer construction.
In addition to excellent insulation, EPS also offers high strength and durability for PoLYRENDER to deliver optimum performance in the long run. Along with polymer-modified render, an alkali-resistant fibreglass mesh is coated to the panel to reinforce the structural integrity of the thermal polystyrene cladding system.

03 9544 8899
Warehouse: 1366 North Rd, Oakleigh South, Vic, 3167, Showroom: Crn North & Warrigal Rds, Oakleigh, Vic, 3166