Balustrade Compliant Louvre Windows from Safetyline Jalousie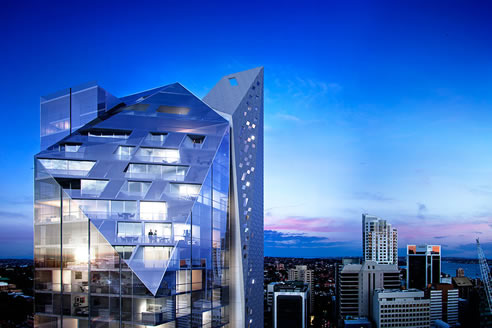 Case Study: Polaris Apartments North Sydney, NSW
Quantity Supplied Approx 200m2
Height 2543mm (18 Blabes)
Width 1165 - 1400mm
Colour/Finish Interpon Sable Brilliance Texture YY377A
Louvres 6.38mm Clear Laminate
Operation LDF100 Drive
Polaris Apartments sits on Berry Street in North Sydney. Combining luxurious style and architectural beauty, the impressive 24 storey development stands out in the city skyline.
The unique design is the product of Allen Jack and Cottier Architects who were faced with a number of technical challenges associated with the site. In particular, the need to provide maximum sunlight to the building and its neighbours in what was already a heavily built up area.
High density living creates greater pressure for clever design. Despite the surrounding environment, living areas are required to have ample natural light and ventilation. The height of multi-residential apartments also produces a whole new array of safety and performance requirements.