How to Install Electric Underfloor Heating by Devex Systems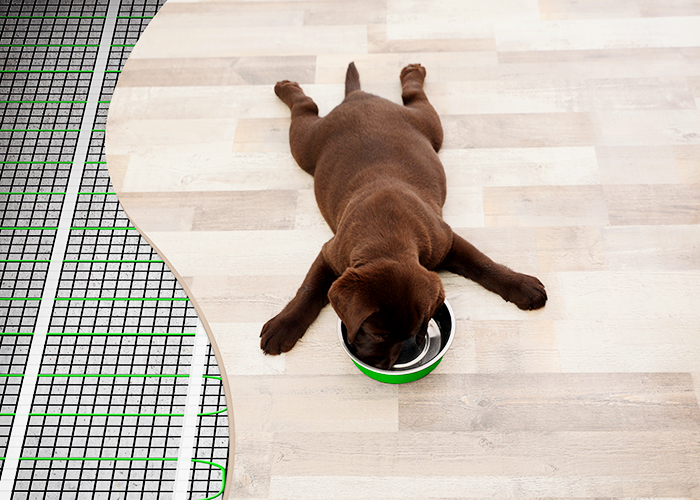 Electric underfloor heating by Devex Systems provides comfort, stability, and less energy consumption and are an option for both domestic and commercial floors. This dust-free heating system is appreciated for its functionality and for the benefits it provides people with allergies and asthma.
If done correctly, the installation of electric floor heating, can last for more than three decades. There is a wide array of choice in Electric Floor Heating options:
Electric Floor Heating in Screed Bed
In screed heating consists of heating cables fixed on top of the structure with a light steel mesh or fixing strips. The cables are embedded in a sand and cement bed, then when heated, will warm the floor covering. This system tends to take up to 30-45 minutes to heat up and gives off heat for the same period once turned off. The benefit of this system lies in its ability to hold the heat for a much longer period.
Electric Floor Heating in Concrete Floor Slab
In slab heating consists of heating cables that are typically fixed to the top layer of the slab reinforcement, prior to the slab being poured. The heating cables heat up the slab, in turn warming the floor covering above. Cables are laid on the top mesh in about 30-40mm of concrete and run during off-peak hours to cut energy costs and maximise the efficiency of the system. Electric floor heating in concrete floor slab is preferably used in new construction projects before the slab is poured.
Electric Floor Heating in Tile Adhesive
This installation consists of a thin heating cable pre-laid on a self-adhesive fibreglass mesh. It sits in the glue or levelling screed which then becomes heated and warms the floor covering. Cables can be placed in a tile adhesive of at least 5–15 mm depending on the design requirements of the room and the personal preference of the homeowner. This is an ideal option for retrofitting and new construction projects.
Electric Floor Heating Under Floating Timber
We recommended two installations. The first uses a low wattage heating cable, pre-laid on a self-adhesive fibreglass mesh and placed within a 10-12mm self-levelling bed with the timber directly on top. This system is useful for renovations when the floor height may be limited. The second installation uses a lower wattage in screed heating cable fixed to the floor structure with either light steel mesh or fixing strips. The cables are then embedded in a 20-30mm sand cement bed with the timber floating on top.
Electric Floor Heating Under Battened Timber
If heating cables are not possible in any other installation method like in concrete, screed, or levelling bed, under battened timber heating is used. To bring warmth into the room, electric heating cables heat the air cavity under the battened timber, which then heats up the timber floor surface.
For more information about Electric Underfloor Heating installation, contact Devex Systems or visit www.devexsystems.com.au today.