Enhanced Stain Removal with Cleaner Additive from Stain-Proof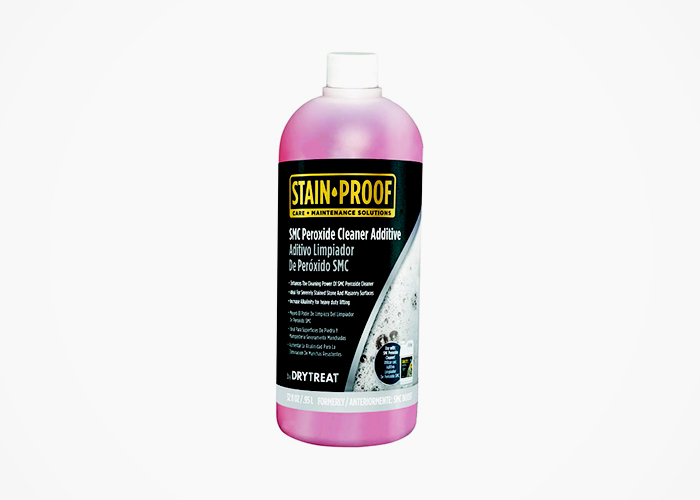 Achieve enhanced stain removal with this superior cleaner additive from Stain-Proof. SMC Peroxide Cleaner Additive magnifies the cleaning power of their SMC Peroxide Cleaner to effectively remove stubborn organic stains and deeply embedded dirt in masonry or porous natural stone surfaces.
Stain-Proof by Dry-Treat's SMC Peroxide Cleaner Additive, known previously as SMC Boost, provides enhanced cleaning power when added to SMC Peroxide Cleaner. This unique and powerful additive works by instantly increasing the oxidation potential of SMC Peroxide Cleaner to deliver effective lifting capabilities. It even works on tough stains caused by moulds and mildew.
By adding SMC Peroxide Cleaner Additive, enjoy significant labour and cost savings. Its high-foaming action is followed by whitening and brightening to not only remove stains but restore the material to its original lustre within hours of application.
To be used exclusively with SMC Peroxide Cleaner, Stain-Proof by Dry-Treat's SMC Peroxide Cleaner Additive comes in 1-quart pack sizes. It is suitable for both internal and external applications such as severely stained porous stone or masonry. Find out more about enhanced stain removal with SMC Peroxide Cleaner Additive by visiting www.drytreat.com today.
STAIN-PROOF by Dry-Treat Profile
1800 786 617 (Toll Free) or (03) 9338 9851
30-32 Assembly Drive, Tullamarine, Vic, 3043