Portable Gate Contract Secured from The Australian Trellis Door Company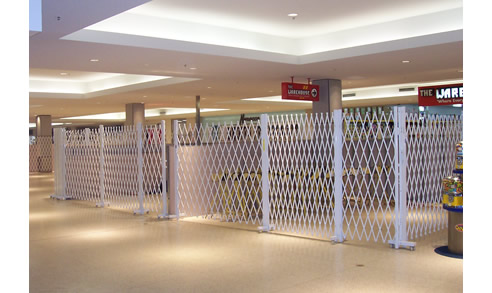 ATDC SECURES AUSTRALIA'S LARGEST PORTABLE GATE CONTRACT

The Australian Trellis Door Company (ATDC) has recently completed the largest contract ever awarded in Australia for trackless trellis security doors. Castle Towers Shopping Centre in Sydney's Castle Hill,owned by QIC and Australia's second largest shopping centre in gross lettable area after Chadstone Shopping Centre in Melbourne, has recently contracted ATDC to supply and install 250 lineal metres of temporary security barriers to secure multiple locations in the shopping centre. Access control in such a large centre is paramount and the barriers were accordingly installed across mall area's, around escalators and travelators and stairwells and across food courts. All the barriers were installed at a height of 2000mm to serve as an effective deterrent. For this contract, ATDC introduced new improvements to its portable gates including utilizing 75mm rubber castors with metal bearings allowing for smoother operation of the barriers. In addition, engineered metal lockable arms were installed to contain the doors in their stacked position allowing for easier handling. The installation was carried out over 4 nights to ensure the tenants at Castle Towers were able to continue trading uninterrupted. The result was a success. James Gibbeson,the centre's operations manager said "The guys were professional and completed all tasks without risk. The barricades themselves present well and I'm impressed with the smoothness of the wheels." ATDC's barriers have multiple applications including access control, securing factory loading docks when the loading dock shutter is open, securing kiosks in shopping centres, securing malls and food-courts, and walkways, usefeul for temporary tenancies and pop up shops and also for providing worksafe areas. The system can span an unlimited width at any angle, even in a curved format, and can be wheeled away when not in use and stored out of sight. Customers include Westfield, AMP, Lend Lease, Stocklands, Centro, Colonial Mutual, and Mirvac. The barriers are fabricated from steel, are precision engineered and have a professional powder-coated high gloss finish for durability and to stand the test of time. The ATDC is an Australian, family owned business led by brothers Jonathan and Richard Kaplan, which has been operating since 1985. It currently supplies Australasia's most diverse range of precision engineered expanding trellis security doors in steel and aluminium, which are suitable for securing most residential, commercial and industrial applications, and has remained the market leader in this field.


The Australian Trellis Door Co Pty Ltd Profile
1300 838 259
A6/366 Edgar St, Condell Park, NSW, 2200