Caroma Marc Newson Bathroom Collection Range from Caroma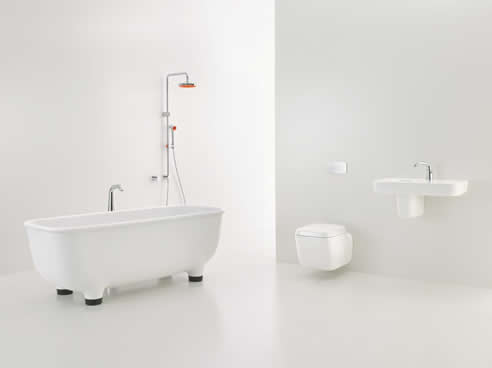 Caroma Marc Newson Bathroom Range Available in the Australian Retail Market

The much anticipated Caroma Marc Newson bathroom collection range has officially launched in Australia and will be available to purchase at selected retailers from 5 August 2013. Marc Newson, internationally acclaimed as one of the most accomplished and influential designer of his generation, has teamed with iconic Australian bathroomware brand Caroma, to create a state-of-the-art bathroom range. The Caroma Marc Newson Collection is the ultimate combination of form and function, and offers a stunning range of bathroom solutions, which will set a new standard in affordable luxury incorporating the best in bathroom product engineering. Mr Les Patterson, CEO at GWA Bathrooms & Kitchens, parent company for Caroma said, "We are excited about our collaboration with Marc Newson, two iconic Australian icons coming together to create this stunning bathroom collection. Marc an Australian designer, whose name is synonymous with quality and innovation, is a perfect fit for our iconic Australian brand Caroma." "The collection will create a real sense of excitement in the market for those looking for beautiful, designer bathroom pieces that will make an impact in the home," he added. The 21-piece Caroma Marc Newson Collection features baths, mixer taps, showers, toilet suites, basins and urinals. Each piece has been meticulously designed by Marc, using high quality materials and patented engineering. The refined and unique design of the collection is emphasized by incorporating innovative engineering solutions, ranging from the awarded Invisi™ Series II cistern to a new and unique fixing system for wall mixers, which eliminates the need for a back plate. All elements in the Caroma Marc Newson Collection are fully compliant with all Australian bathroom standards, and the various product options offer flexibility to suit a wide range of bathroom budgets. Caroma is part of GWA Group Limited - Australia's leading supplier of building fixtures and fittings to households and commercial premises.


GWA Bathrooms & Kitchens Profile
1300 227 662
Suite 102, Level 1, 7-9 Irvine Place, Norwest Business Park, Bella Vista, NSW, 2153