Retractable Security Barriers from Australian Trellis Door Company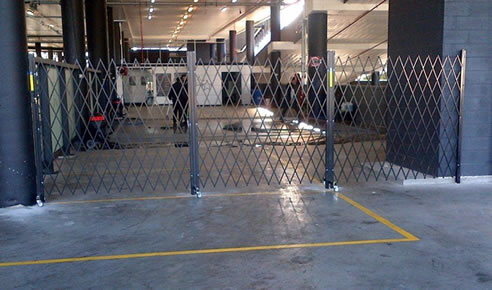 RETRACTABLE SECURITY BARRIER SECURES STAR CARWASH
Australian Trellis Door Company's (ATDC) retractable security barrier is being widely used across the rapidly expanding Star Carwash network primarily to secure the on-site cleaning chemicals and compounds.
With many of these wash bays now being installed in the high traffic car parks of many of the country's leading shopping centre networks (such as those owned by Westfield, LendLease, QIC and AMP) the onsite cleaning chemicals need to be stored safely and securely and out of reach of the general public.
Many of these wash bays are installed in difficult shaped locations with numerous limitations such as low height ceilings and odd-shaped apertures.
ATDC's retractable security barrier is proving to be an effective solution for the Star Carwash group. The system is completely portable, trackless and retractable; it can span any width and can accommodate any angle (even curved configurations).
Numerous of ATDC's barriers have been recently tested as compliant in certain circumstances (-refer www.trellisdoors.com.au for further clarification) against the Australian Standard 4687-2007 Temporary Fencing and Hoardings. Further, ATDC's barriers have an independently audited comprehensive WHS Risk Assessment for added workplace health and safety certainty.