Protective Coating for External Venetians from Evaya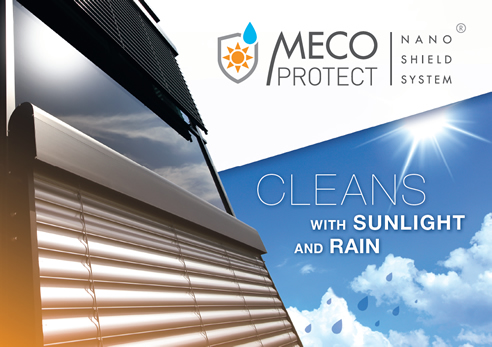 MECOPROTECT - NANO SHIELD SYSTEM
The power of photocatalytic activation Over time organic substances and other environmental contaminants deposit on surfaces, to which dirt and dust par ticles can then easily adhere.
With the photocatalytically active MECOPROTECT® coating, organic substances are decomposed under irradiation by UV(A) light and transformed into carbon dioxide and water. Non-organic dirt particles adhering to coated surfaces are thus minimized.
SELF-CLEANING
Discover our new technology
Normal coatings are hydrophobic. The newly developed MECOPROTECT® coating becomes super hydrophilic after activation by UV light. With this water-attracting coating even small quantities of water are sufficient to wet the whole coated surface, so that the unattached dirt particles are washed away.