Daylighting System Solutions from Solatube Australia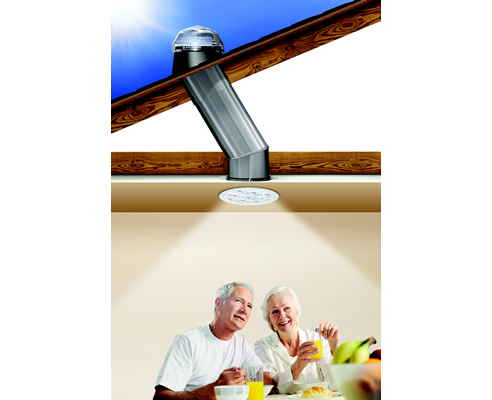 Yes, winter can be made brighter.
Winter is so often associated with short dark days and miserable natural light. The result of this is, the lights in the home are turned on earlier, and left on longer, meaning bigger energy bills.
To combat this, some install skylights, which are expensive and essentially ineffective during short winter days. They also produce heat, and can leak water into the ceiling and space below.
There is no need to sacrifice natural daylight.
The real solution in winter is the Solatube Daylighting System, a proven performer. It is the world's best tubular daylighting device, and a winner of the Australian Design Award, delivering an abundance of light, does not leak, and sits perfectly with the decor.
Here's how the Solatube Daylighting System works. A rooftop dome captures light as soon as there is light in the sky, and continues to do so until complete darkness sets.
The captured light travels down a highly reflected patented tubing, to the ceiling below and filters through the new, and exclusively designed Glass Decorative Fixture into the space below, with visual comfort.
Kitchen, bathroom, hallway, in fact any dark space in your home is where a Solatube Daylighting System will work for you.
If your concerned about decor appeal, you will be pleased with the exclusive selection of the meticulously designed and crafted six Glass Decorative Fixtures. Designed to appeal and appease any home owner, the selection is just perfect for all types of homes.
The Solatube Daylighting System is the world's best tubular daylighting device, with the highest performance, guaranteed.
So with no electricity required and year round performance, we accept the challenge to brighten any dark space in your home.