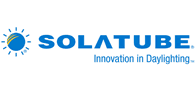 Company Profile
Solatube has long been the innovator in home daylighting. Our early products were the first variation of a traditional skylights that could capture daylight and deliver it to interior spaces where natural light was previously unavailable. Through advanced technology, we are able to provide a Solatube Daylighting System that provides more light than an ordinary skylight many times its size; thus eliminating many of the problems associated with large skylights.

Today we have taken another leap forward by integrating advanced LED technology into our state-of-the-art daylighting systems. The result is the Solatube Smart LED lighting System, a 24-hour home lighting solution that delivers up to 94% in light energy savings.

Solatube Australia
1800 131 619
2/5 Wenban Place, Wetherill Park NSW 2164
* If you would like to update the text on your profile page, please contact Spec-Net.