Large Diameter Column Forms from EzyTube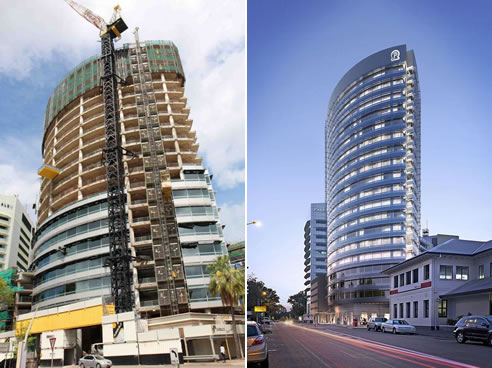 Charles Darwin Centre, Northern Territory
The Charles Darwin Centre is one of the newest high rise commercial buildings in Darwin, Australia. It comprised of 20 levels of premium grade office space which house many blue chip clients including approximately 50% of all the Northern Territory Governmental Departments. At ground level, there are numerous prestigious retail outlets with an impressive suspended concrete floor above which is 7 mtrs high in some locations.
There are approximately 12 round columns per floor level, with the lower 8 level utilising 1000mm dia concrete columns, and the upper 12 floors utilising 800mm dia concrete columns at approximately 3200mm high per level. Including the basement level, this totalled over 260 concrete columns at 800mm to 1000mm in diameter.
The closest suppliers of column forms to Darwin are located in Brisbane (3,400km / 2,112 miles away). To supply conventional round column forming tubes would occupy approximately 16 semi trailers at almost 1 trailer load per floor level.
Ezytube offered an effective solution by supplying these large diameter column forms in a palletised Flatpack format, which resulted in the entire project supplied in a series of easily handled small palletised loads in the equivalent of one semi trailer load.
In addition to transport savings, the labour and crane costs of handling the tubes was significantly reduced as the column forms for each suspended floor level were neatly packaged to an easily handled volume per floor level.