Flat Pack Concrete Column Forms from EzyTube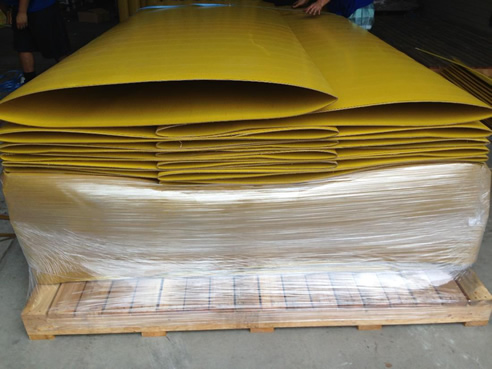 Introduction to Ezytube Flat Pack
Ezytube Flat Pack is an innovative new formwork tube which is rapidly expanding in use to create round concrete columns on major construction projects.
Ezytube Flatpack is lightweight, easy to set up and remove, and occupies less than 5% of the volume that a round tube would occupy therefore transport costs to site are only a fraction of the cost compared to conventional round tubular column forms.
Ezytube flatpack is manufactured as a round tubular form, has a thin, high tensile strength wall and upon manufacture is flattened to an overall thickness of approximately 15mm. The tubes are then placed on a pallet and multiples of tubes are stacked on top until a height of the stacked tubes is achieved that the tubes remain to be stable on the pallet. The total number of tubes per pallet may be anything from 20 to 80 tubes per pallet depending on the diameter of the tubes, and the total weight that can be safely handled on the pallet.
Often, one level of tubes (10-40 tubes) may be packed onto one pallet, and separate pallets for successive levels stacked on top to minimise storage space on site and to ensure simplicity for the site storage are to the level on which the column forms are to be erected.