Tubular Skylight with Integrated LED Lighting from Solatube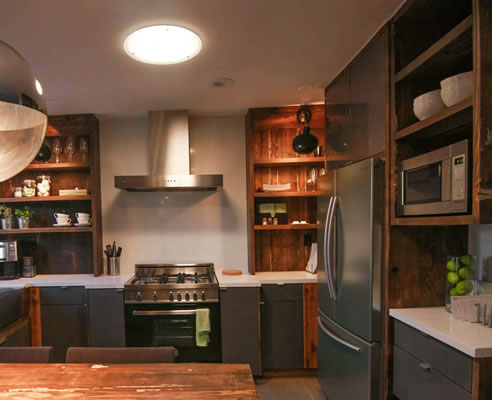 Solatube® Smart LED™ System
Daylighting designed with integrated lighting
Technology that Creates Light in a Smarter Way
The Smart LED System combines two of the world's most energy efficient light sources into one high-performing unit. Featuring a patented rooftop dome, the system captures the sun's rays, transfers them up to 20 ft (6 m) through highly reflective tubing, then distributes them throughout the space using specially designed diffusers. When daylight wanes, LEDs that are 75% to 80% more efficient than traditional sources supply the light.
Smart LED System Benefits
The revolutionary Solatube Smart LED System unites LEDs with proven Solatube daylighting design. It features proprietary SunSense™ Technology that monitors the daylight levels in the system and automatically triggers the LEDs when daylight levels get too low. This seamless transition from no-cost natural light to energy-efficient LED light reduces energy use by up to 94%, making the Smart LED System an unbeatable sustainable lighting option and the most energy-efficient commercial lighting solution for small - to medium sized spaces.
Significantly cuts electricity use for lower energy costs
LEDs lasts up to 25 times longer than traditional light sources for decades of worry-free operation with zero maintenance
Adapts automatically to climatic and seasonal changes to ensure lighting requirements are met every day throughout the year