Commercial Skylight Solution from Solatube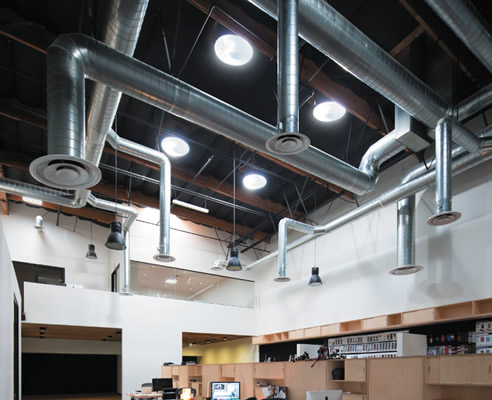 Solatube SkyVault Series
Big tubes for big spaces
SkyVault Series Benefits
The Solatube SkyVault Series is a groundbreaking line of modular, high output tubular daylighting devices that deliver massive amounts of daylight to large volume spaces with high, open ceilings. This gives building designers a daylighting solution that provides maximum output while minimizing impact on the building envelope and significantly reducing installation costs.
Maximizes light collection for greater daytime illuminance
Provides exceptional thermal efficiency for comfortable interior temperatures year-round
Enables greater spacing between units with fewer roof penetrations for reduced costs and a less cluttered ceiling
Minimizes labor and waste through design innovations and smarter shipping methods for reduced installation times and expenses
Our Biggest, Boldest Technology Yet
The Solatube SkyVault Series (29 in./740 mm diameter) features revolutionary dome and daylight collector technologies that allow an enormous amount of light to enter an area. The system captures the sun's rays at the rooftop level and can transfer them extensive lengths through the world's most reflective tubing.