The Benefits of Daylighting for Educational Spaces from Solatube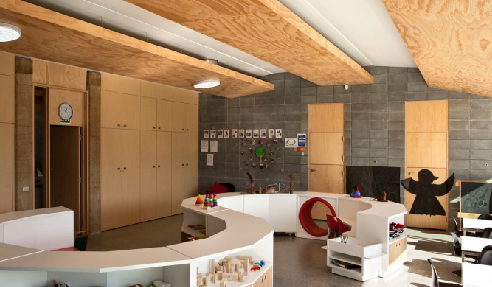 Solatube - Lighting the Way to a Smarter Future
The enormous psychological benefits of incorporating natural light into built environments are well documented. Educational spaces are no exception.
Solatube technology is helping this crucial interplay to happen, with an increasing number of Australian schools benefiting from the advantages of introduced natural sunlight.
"Natural light gives you the truest colour," explains Florian Mehler from JDH Architects, a Sydney firm that specialises in the design of learning and educational facilities.
"You can never copy what the sun does to you. Just think about situations where you work all day under fluorescent light. This definitely affects your happiness. If you can bring controlled natural light into schools, it's good for the wellbeing of teachers and students alike."
Solar-powered learning
Overseas research has shown that natural light offers a wide variety of educational benefits.
A 2014 University of Nebraska-Lincoln study on the impacts of daylight on preschool students' social and cognitive skills revealed a notable positive relationship between children's social abilities and their classrooms daylight conditions when compared to those of students in non-daylit classrooms. The results also revealed a significant relationship between cognitive development and classroom daylight conditions.
Similarly, a 1999 study by US energy efficiency consultancy Heschong Mahone Group revealed that children achieved a 25 per cent improvement in test scores as a result of naturally lit classrooms. And in a 1991 study, the Alberta Department of Education found that students read faster in classrooms lit using natural light. After analysing the results of more than 21,000 students in Canada and the US, researchers found that students progressed 26 per cent faster on reading tests and 20 per cent faster on math tests in classrooms that were lit by natural sunlight.
Research from across the ditch
For Phil Smith, Director of Collingridge and Smith Architects UK Ltd in Auckland, New Zealand, utilising natural light is a critical factor in all his work. Over the past decade, he's been involved in the design of over 60 education buildings for zero to five-year-olds. Introduced sunlight features in all of them.
"Daylighting really is something that you want in any building or space for human beings-it's a no-brainer that you need it." he explains.
Smith says his company are currently undertaking their own research into the benefits of light on internal educational environments.
"A lot of the older American studies seem to indicate benefits related to better bone density and dental strength, while from my own perspective, things like melatonin levels, triggered by the sun and the diurnal swings of day and night, enable better sleep patterns," he says.
Harnessing daylight
Manufacturers of high-performance daylighting systems, Solatube utilises advanced optics to significantly improve the way sunlight is harnessed and diffused within commercial and residential interior spaces. The innovative Australian company is renowned for revolutionary cost-effective designs that introduce light to traditionally challenging areas.
Florian Mehler has specified Solatube products for a wide range of educational design projects and highlights their ability to excel in situations where the challenge of capturing and delivering natural light is complex.
"I must say that Solatube is a really good product to use, especially in the educational sector," he explains. "Given that the length of corridors between classrooms can be quite substantial, the Solatube is really ideal for getting natural light into these circulation areas, or indeed any area that's hard to reach with a normal window."
Mehler adds that Solatube products also offer an ideal way to provide evenly distributed natural light to classroom environments.
"For instance, even if you have a classroom that faces north or west, you will not always have the exact same amount of light on all parts of the desks," he says. "Yes, you can solve this by switching on the lights. However, the natural daylight is just unbeatable in this instance, as it gives true light. Therefore we prefer to use that. There's also the option to dim or shut down the Solatubes if required, so it's very beneficial."
Simple solution to a complex challenge
Trish Abel, a project architect from Elevation Architecture Studio in Queensland, also says Solatube is ideal for use in educational spaces.
Having used the products in the past, she recently opted for a Solatube skylight system for the Wooloowin Childcare Centre development-a project that involved the conversion of an old flour mill and warehouse into a bright, interactive space.
"Obviously, childcare centres need to have natural light and ventilation for every activity room," she explains. "If they don't, then they don't get passed by the Department of Education. This was a challenging project in that some of the spaces ended up needing more natural light than we had access to by just using windows."
One space, in particular, enabled the benefits of Solatube technology to come to the fore.
"This was a ground floor activity room that didn't have an external wall so it couldn't have a window," she explains. "As part of the solution, we installed a Solatube skylight that had to run from the roof through a duct and then feed into the activity room."
Proven performer
Solatube systems are also a feature on a recent development at Sacred Heart Primary School in Cabramatta.
"Essentially, we built a new learning street between three existing buildings and amalgamated them all, trying to incorporate some good environmental design principles in terms of natural light," says project architect James Buskin from Quinn O'Hanlon Architects.
"We also used Solatubes in isolated internal areas with no external access. We also used them to boost light near the canteen. It was all about making these spaces more enjoyable to live in and learn in."
With previous experience with Solatube products, Buskin says the decision to use their systems on the Sacred Heart project was simple.
"We used the commercial Solatube product, which we've used on a number of other schools as well," he says. "On this project, we did some non-standard stuff with it, so it wasn't a typical install. We had light shafts that penetrated well below the building, which involved building a custom shaft and support structure. We've had good experiences with Solatube in the past, and it was certainly the same on this occasion."