Folding Shop Front Doors for Cotton On from Trellis Door Co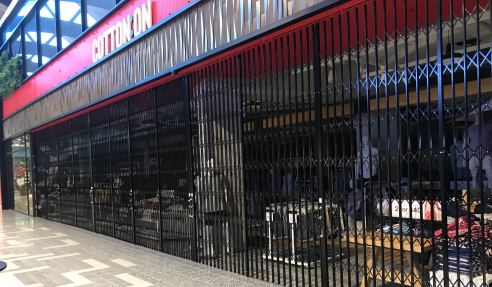 Cotton On Group (The Group) is Australia's largest global retailer selling clothing and cosmetics through an international network of more than 1,500 stores in more than 12 countries including the USA, Canada, Brazil, UAE, Saudi Arabia, and many more.
Founded in 1988 in Geelong, Victoria and now employing in excess of 17,000 staff and with well-known brands including Cotton On Kids, Cotton On Body, Typo, Supre, Rubi Shoes and Factorie, The Group has recently commenced using the services of The Australian Trellis Door Company (ATDC) to supply and install its shopfront door closures.
ATDC has supplied its folding closure doors and expanding commercial trellis doors to various brand destinations within the Group across Australia including at Robina Town Centre in QLD and more recently at a new shopping centre development at Mandurah in WA. The image above shows the recent installation at Robina Town Centre of a 20 metre wide curved steel shopfront door closure. For more technical information on the product refer to www.trellisdoors.com.au
All ATDC products supplied thus far to The Group have been top hung horizontal sliding retractable systems with the common features having been the absence of a floor track; the ability to provide lock up with seamless up/down locking mechanisms; and, further, to accommodate angled and curved shopfronts with radii of up to 90 degrees. In every case, ATDC has endeavoured to provide door closures which occupy the absolute minimum amount of storage space thereby optimizing the size of The Group's retail space in each and every instance. For further information refer to ATDC's website at www.trellisdoors.com.au.
ATDC prides itself on supplying the industry leaders with quality shopfront door closures at competitive prices, backed up with uncompromising service, anywhere in Australia and South East Asia. For some of the other leading brands that ATDC has supplied refer to an article at www.trellisdoors.com.au.
For further information on ATDC's comprehensive range of shopfront, door closures visit their website on www.trellisdoors.com.au. For further information on ATDC's growing export business click here.