Heavy Duty Roller Shutters for Education from Trellis Door Co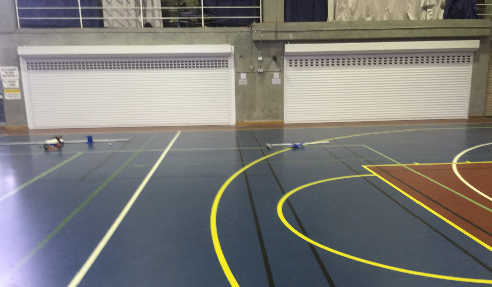 The Australian Trellis Door Company (ATDC) has recently installed its latest heavy-duty security roller shutters at the prestigious Moriah College, a leading private school in Sydney's eastern suburbs.
These quality RS6 high-density security roller shutters are complete with slimline overhead pelmet boxes and span six (6) metres in one section without the need for unwieldy removable mullions.
Working closely with project managers Northcliff Construction Group, ATDC installed these high-grade roll formed roller shutters with their 77mm gauge heavy profile in a white powder coated finish to blend in with the surrounding décor of the school premises; A full powder coat range is available to match the Dulux range.
Electrically operated with secure key switch operation, ATDC installed parachute safety brakes as an operational precaution given the large sizes of the shutters in a school location. The shutters can also be remotely controlled for ease of convenience where this is a requirement by utilizing high tech satellite motors, satellite transmitters and receivers.
The shutters were installed with a partly solid slat as well as some punched slats in order to achieve the necessary ventilation and free flow of air required for the application.
ATDC'S RS6 High-Density security roller shutter is the only security roller shutter on the Australian market with an enclosed pelmet box that can span such wide expanses in a single span. This is both an operational and cost-saving advantage for the customer. It also saves the customer from the cost of building inexpensive bulkheads to conceal the otherwise unsightly open overhead roll.
These cutting-edge security roller shutters are now available for supply and installation in Sydney, Melbourne, Brisbane, Adelaide, Canberra, Perth as well as all Newcastle, Geelong, Townsville and all regional towns across the country.
For further information on ATDC's full range of commercial and residential security roller shutters, visit www.trellisdoors.com.au.