Solar Powered Solar Star Ventilation Systems from Solatube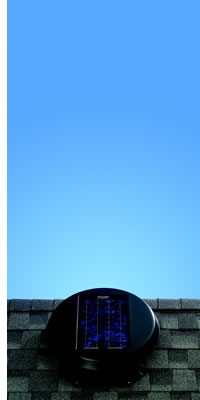 The Solar Star ventilation systems for residential as well as commercial applications are gaining market share.
Heat and moisture can be irreparably harmful to roof space and attics so ventilation experts Solatube are suggesting their most technically advanced and environmentally friendly product 'Solar Star' especially for the upcoming summer months.
High humidity levels can cause structural damage through mould, fungal decay and saturating insulation and at the same time, heat build-up in a roof is transferred into living areas, dramatically increasing both temperatures and energy bills.
The solar-powered Solar Star ventilation fan keeps your home cool by eliminating heat and humidity build-up in an environmentally friendly way and is equal to up to 10+ wind vents.
A report by the government, "Energy Consumption in Residential Areas", mentions that poor design of residential areas and individual homes exacerbates heat problems and increases reliance on air conditioning, which is a key source of driving peak electricity demands. This leads to higher electricity demands by households therefore
the use of energy efficient products is important.
Solatube Australia General Manager Mark Peall said, "the Solar Star will reduce your overall electricity bill so you will not only save money but by saving energy you will also help to save the environment. By having the Solar Star ventilation system installed you can effectively eliminate your household's greenhouse gas emissions by reducing your overall energy consumption, an excellent green result."
In the summer months, the temperature at the underneath side of the roof can reach 100 degrees but by circulating the air and ventilating the roof space, the Solar Star reduces heat build up, and keeps your home cool, which ultimately reduces air conditioning costs.
It starts working as soon as the sun comes up instead of waiting until the temperature of the attic space reaches a preset temperature, as does a regular powered ventilator.
It also protects critical roof structures, reducing heat and moisture build-up and best of all is leak proof. The Solar Star is the most functional of all ventilation systems due to its easy installation and the fact that it can be placed wherever improved air circulation and ventilation is most needed.
Solar Star ventilator fans are available to suit most roof types including corrugated, metal and tiled and can be installed in less than 30 minutes without needing an electrician. The Solar Star Ventilation systems can be installed in home and also in the garage, shed or any other closed area. Solar Star ventilators are highly durable and contain an impact-resistance solar panel that provides protection from hail, wind and flying objects.