How to Choose an Outdoor Ceiling Fan from Prestige Fans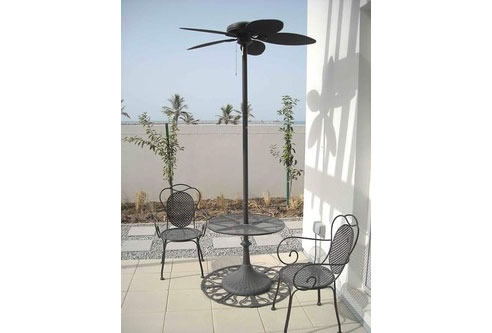 Many people today are wanting to install ceiling fans outdoors as well as indoors.
Alfresco areas are being built standard in new homes, and it seems every renovation also includes one.
An outdoor fan can not only provide excellent cooling, but did you know the gentle breeze from your fan will also keep mosquitos and flies away (they do not like moving air).
But what fan can you use outdoors?
Most ceiling fans are designed for indoor use, so they cannot be used in outdoor areas. Even if your fan is under a roof, with walls on three sides, moisture from cold nights will still get onto and into your fan (just think of how wet your outdoor furniture can be sometimes in the morning).
So what do you need to look for?
1) Motor - the motor of the fan you choose needs to be sealed against moisture ingress or water penetration. You will hear lots of different descriptions like "Tropical rated" but the real test is if the fan has an IP rating. IP ratings are the internationally recognised standard for water ingress or water penetration.
2) Material composition - most celing fans are made of powdercoated metal, which will rust over time if mounted outside. Your outdoor fan should be made of aluminium or stainless steel, with stainless steel fasteners. You should note though, that stainless steel does require maintenance and regular cleaning, otherwise it will develop "tea stains" which can be viewd as rust. Aluminiun on the other hand will be trouble free.
3) Blades - like the body, your blades need to be made of weather resistant material. Timber blades will absorb moisture, which will unbalance the fan. Outdoor fans usually have UV resistant plastic blades, which also makes them easier to clean.
4) Salt Spray Tested - proximity to the ocean is another factor to take into consideration. Not all outdoor fans are resistant to salt spray, so check if the fan you choose has been salt spray treated.
With the above information in hand, you can now go and choose which ceiling fan best suits your application and style.