Benefits of Infrared Sauna Bathing from Sauna HQ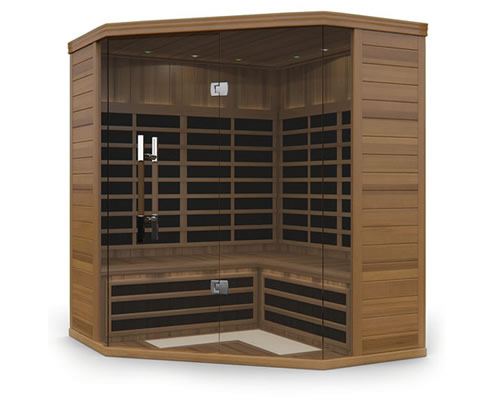 Sauna HQ offers it customers Infrared Saunas. All Infrared delivery systems produce EMR and EF to some extent. While the levels are typically low, it is still not clearly understood what the long term effects of low exposure might mean. Pure Infra technology was developed to take the worry out of unnecessary exposure to EMR and EF. For instance, the electrical field in a Pure Infra is less than you'd experience from a computer screen or mobile phone. After all, if the point is to detoxify, why expose yourself to any level of unnecessary radiation?
Benefits of Infrared Sauna Bathing are;
Body Friendly
Infrared bathing is a safe and comfortable way to detoxify, relieve aches pains and stress.
Time Friendly
There's no waiting for an infrared room to heat up, so you can easily enjoy its benefits anytime.
Planet Friendly
Even with daily use, infrared technology uses as little or less electricity than many other common household appliances.
Family Friendly
Infrared rooms are safe and easy to use for kids and adults alike - it's an excellent investment in your family's health.