Crowd Control Gates for Major Transit Stations from Trellis Door Co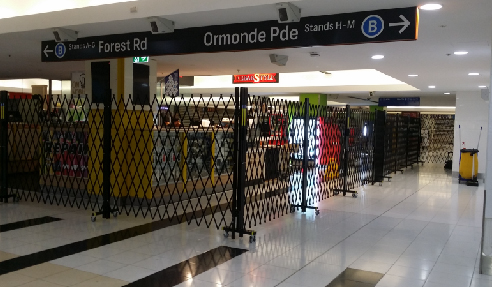 A major expansion of railway stations in both Sydney and Melbourne has resulted in a mushrooming of valuable new retail floor space.

In Sydney, major expansions at Wynyard, Central Station, Barangaroo and the Northwest Metro Line are typical examples of this fairly recent phenomenon.

Similarly with airports and hospitals, transit hubs are proving to be the new frontier for retailers with their captive market.

The Australian Trellis Door Company (ATDC)'s industry-leading crowd control barriers are the go-to product for securing retail space in these transit hubs whether for airports, railway stations or hospital retail storefronts.

ATDC has supplied its crowd control barriers to secure permanent and pop up retail at Central Station and Wynyard as well as securing thousands of square metres of retail space at both Sydney and Melbourne International and Domestic Airports.

ATDC's crowd control barriers are safe and easy to operate,having being tested against the relevant OH+S legislation and also NATA tested against the Australian Standards for temporary Fencing and Hoarding, including dynamic impact testing and simulated climbing.

These crowd control barriers are trackless, portable and flexible. Since they are modular, they can span unlimited width apertures (at any angle) without the need for any removable mullions. Available in standard heights, they run on a series of heavy duty non-marking thermoplastic bottom castors and have numerous wall mounted and floor fixed locking options.

For further information on ATDC's comprehensive cutting-edge crowd control barriers visit ATDC's website at www.trellisdoors.com.au.

ATDC's crowd control gates are now sold in Sydney, Melbourne, Brisbane, Adelaide, Perth and Canberra as well as in all regional towns across the country including Newcastle, Geelong, Townsville, Sunshine and Gold Coast regions. In addition, they are also exported throughout the Asia Pacific, South East Asia, The Pacific Islands and The UAE.