Solatube natural lighting for your kitchen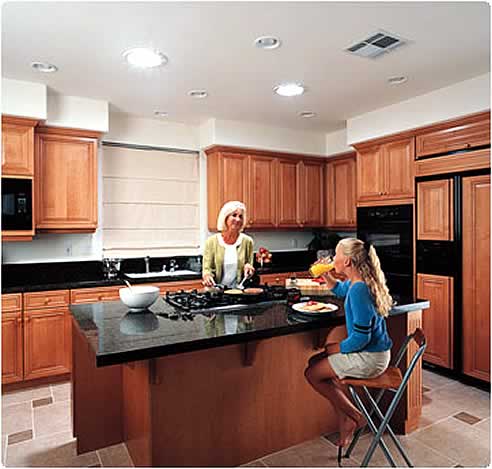 The kitchen is a gathering place for your family and friends to spend time together and retell the events of the day, as well as a center for activities such as cooking meals and entertaining.
The Benefits
Increased light input. Unique patented Light Intercepting Transfer Device (LITD) amplifies the collection of sunlight rays at all times during the day & directs the maximum amount of light down the tubing into your room.
Energy efficient sealed design. Less heat generated in Summer. Minimal heat loss in Winter.
Patented Roof-mounted reflector, UV treated, high impact hail resistant acrylic dome to withstand all weather conditions.
Outperforms any other tubular skylight; "Supported by the $10,000 Charity Challenge."
Can be coupled with a wide range of ventilation solutions.
High performance Leak proof flashing's matching all Australian roof types.
Double glazed diffuser accessory enhances the insulating characteristic of Solatube and reduces heat gain and loss to minimum level. Note: Upgrade accessory available for purchase.
Stylish Design: contemporary lines and stunning appearance.
Quick & Easy Installation. Pre-assembled kit with adjustable angle adaptors - no structural re-framing needed.
Unbeatable Warranty (to original purchaser) excludes diffuser (1 year).
Suits Bathrooms, Hallways/Corridors, Utility rooms, Home Offices, Kitchens Dining rooms, Closets.
Available in two sizes (250mm and 400mm) to suit all home applications.