New Tap Mixer Designs from GWA Bathrooms and Kitchens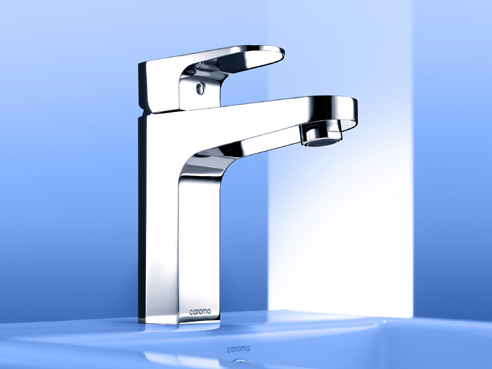 Australia's leading supplier of bathroom fittings and fixtures' Caroma' has unveiled its sophisticated new Track mixer range' featuring smooth lines and a striking aesthetic.
The Caroma Track range is set to redefine contemporary bathroom styles. The modern tapware collection is beautifully constructed with a modern' European–inspired oval shape with rounded edges' to add the finishing touch to many different styles of toilet suites' basins and baths' as well as the kitchen sink.
Available in a striking polished chrome finish' the range features a basin mixer' wall basin mixer' sink mixer' bath/shower mixers and bath and shower outlets – ideal for households who are looking for a full tapware collection.
The shower options include a rail shower with the choice of using either a height adjustable hand shower or overhead outlet' or a shower system featuring a fixed hand shower and overhead outlet and a bath/shower mixer with diverter. The hand shower and overhead outlet are also sold separately.
Combining bold' designer styling with energy efficiency, the Track range offers contemporary looks with superior water–saving benefits. The basin mixers achieve a 5–star WELS rating' the sink mixer a 4–star WELS rating' while the showers are 3–star WELS rated for water efficiency. In addition' the Track tapware range is fitted with an adjustable internal cartridge for ongoing water and energy savings.
Caroma is part of the GWA International group of companies' Australia's leading supplier of sustainable fittings and fixtures for the home. GWA is at the forefront of product innovation and corporate responsibility' always focusing on the development of environmentally and economically safer technologies.
For further information please call Caroma on 13 14 16 or visit www.caroma.com.au