Fall Protection Equipment Inspection Checklists by Capital Safety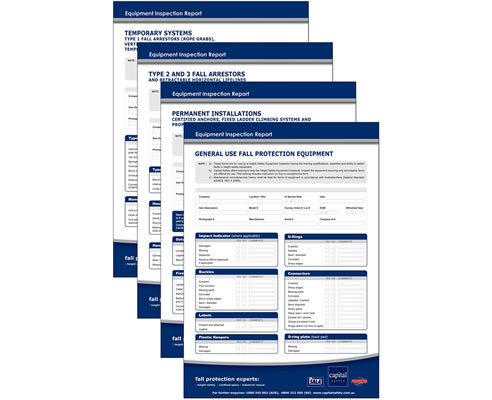 CAPITAL SAFETY AUSTRALIA INTRODUCES
FALL PROTECTION EQUIPMENT INSPECTION CHECKLISTS
A range of free checklists to assist with your height safety inspection and maintenance program!
Capital Safety, home of the world-renowned DBI-SALA and PROTECTA brands, has announced the release of their Equipment Inspection Checklists.
Inspection & maintenance of your fall protection equipment is mandatory and essential for working safely at height and must comply with Australian Standard AS/NZS 1891.4. In keeping with its commitment to worker safety, Capital Safety has introduced a series of free Equipment Inspection Checklists.
There are four equipment inspection checklists available in the series, covering all areas of fall protection and height safety equipment inspection: 1- General Use Fall Protection Equipment, 2 - Permanent installations, 3 - Temporary Systems, 4 - Type 2 and 3 Fall Arrestors.
Your safety when working at height depends on effective inspection of your fall protection/height safety equipment, before and after use. Capital Safety has developed a series of comprehensive Equipment Inspection Checklists available at no cost from our website to assist with this process. Go to www.capitalsafety.com.au and simply click on the Tools tab to access and download your copies.
The checklists are not intended to replace competent training in inspection and maintenance of fall protection equipment, but rather serve as a tool for use in your inspection and maintenance program. Capital Safety provides accredited competency based training to help the Height Safety Equipment Inspector with the knowledge to inspect and oversee the care, inspection and maintenance of their company's fall protection equipment. Further information can be obtained from their training department or via their website.
For more information regarding Capital Safety's Equipment Inspection Checklists call 1800 245 002 (AUS), 0800 212 505 (NZ) or visit them on the web at www.capitalsafety.com.au.
Capital Safety, the world's leading designer and manufacturer of height safety, confined space and industrial rescue equipment with 11 operating sites worldwide, is home of the DBI-SALA and PROTECTA brands.