Wooden flooring over under floor heating from Sydney Flooring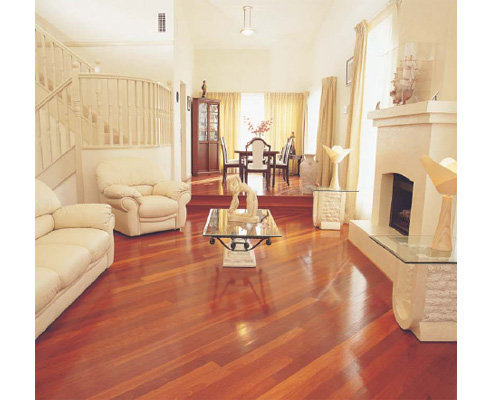 There's nothing more luxurious than stepping out of bed on a chilly winter's morning onto a warm and comfortable floor - what's more imagine that you could do so onto a stunning, natural timber floor. What many homeowners don't realize is that it is possible to successfully lay solid wooden flooring over all types of under-floor heating if you follow a few simple guidelines.
So if you're feeling the cold this winter and in the midst of planning or undergoing a renovation which includes timber floors and under floor heating, speak to the experts first.
Bill Durkowyak from Sydney Flooring is arguably Sydney's most respected expert when it comes to Timber Floors. Bill has been installing timber floors for over 50 years and he still gets a buzz when his clients realise the natural charm and character timber flooring has brought to their home. But Bill offers some sage advice for clients considering the installation of under floor heating beneath a timber floor.
"The biggest factor to consider is the choice of timber product, "says Bill. "All natural timbers react to wet and dry changes in the atmosphere and heat will naturally create a shrinking effect known in the industry as 'gapping'. Clients need to be aware of gapping and what can be done to minimize any lasting damage to their new timber floor."
Timber product specifications and information are available on all good timber flooring websites including details re structure and dimensions plus the preparation processes the timber has undergone prior to manufacture.
"Whilst all timbers react fairly similarly to drying conditions, timbers such as Tallowwood and Ironbark are some of the slowest to react and may be a better choice than, say, Cypress Pine, if you're considering under floor heating, "said Bill.
Other critical considerations include ensuring the site is correctly prepared and that the most suitable system temperature control is installed.
"It is vital that the temperature system control is set so that the floor surface temperature does not exceed 26 degrees centigrade," says Bill, "as excessive temperatures may cause permanent damage to the timber floor."
"It's also critical to use a recommended finish such as Synteko Classic or Tung Oil, to prevent edge bonding, to seal the floor appropriately," says Bill. "The experts at Sydney Flooring will advise you about the best finish for your choice of timber floor."
It's never been so easy to enjoy the natural feel and look of solid timber floors plus have constant warmth throughout your home even in the coldest winter snap!