Retractable Garden Hoses by Hozemate from Vincent Buda & Company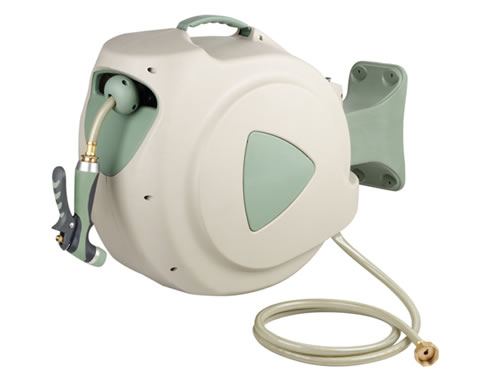 Hozemate Retractable Garden Hoses
Exclusively available at Vincent Buda & Company, the new range of Hozemate 2012 retractable garden hoses. These hoses are the best value retractable garden hoses in Australia. Available in 20 metre and 30 metre with a 12mm hose. New to the range is a 20 metre with a massive 16mm hose.
The Hozemate 2012 range of retractable garden hoses now feature:
Machine / factory fitted secure quality brass fittings that will not leak or burst off. Able to withstand high water pressure.
Solid Brass Fittings - not plastic.
Hose is a premium knitted type with strengthening ribs and multi layer support with UV resistant materials giving it great anti kink properties and long life.
Retraction system has proven reliability.
Wall Bracket & Fittings - easy to Install.
Ready to use out of the box - all fittings are pre fitted, just screw hose to tap and start using.
Easy to Use.
180 Degree Swivel.
Convenient Carry handle.
Free Quality high Pressure Trigger Gun.
12 Months Warranty.