Retail Concertina Security Door from The Australian Trellis Door Co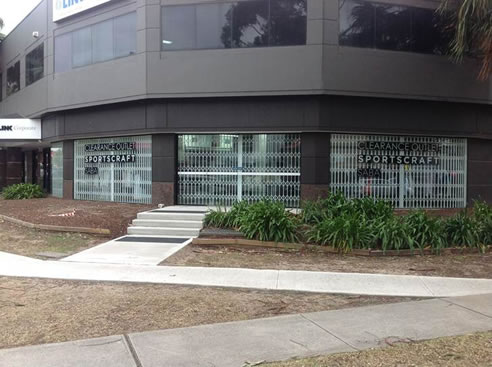 APPAREL GROUP INSTALLS CONCERTINA SECURITY DOORS
AT LATEST STORE OPENING
Apparel Group (www.apparelgroup.com.au), home to iconic fashion labels Sportscraft, Saba, Willow and more recently Jag which was acquired from Fusion Retail Group, has opened a large clearance outlet store in Sydney's Alexandria.
Apparel Group have installed Australian Trellis Door Company's (ATDC) ultra deluxe SO8 concertina security door to secure all the glass doors and windows to these new premises.(www.trellisdoors.com.au/products/commercial-&-industrial-trellis-security-doors-&-grilles/so8-curved-security-door)
Dragan Jovanovski from That Retail Company, project manager for the fitout of the new factory outlet said the owners,who were concerned about the risk of break and enters, wanted the shopfront security doors to stand out clearly to the high volume of passing traffic in the busy area corner of Botany Road and McEvoy Street. The ultra sleek lines of the precision engineered SO8 concertina security doors and their professional bright white high quality powdercoated finish have had the desired effect. The SO8 concertina doors fold back out of sight during trading hours yet at night they present a formidable yet attractive barrier to would be intruders.
Alexandria has become a hub for factory clearance stores for the country's major fashion and footwear brands. A relatively high level of crime has crept into the neighbourhood with numerous break and enters recorded in the last few months. Canterbury Clothing recently installed ATDC's heavy duty SO6 concertina security doors after repeated break ins at their Botany Road clearance store with great success (www.trellisdoors.com.au/products/commercial-&-industrial-trellis-security-doors-&-grilles/so6-concertina-security-door-door-system)
ATDC has a diverse range of security doors suitable for retail premises, shopfronts, shopping centres, showrooms and offices. For more information contact ATDC from anywhere in Australia or visit our website for our full range of security products.