Energy Efficient Overhead Gas Tube Heaters from Devex Systems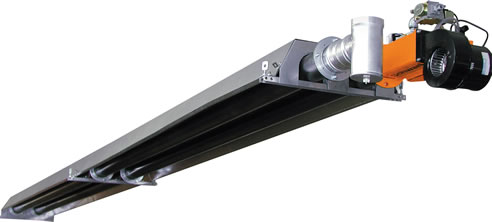 Schwank High Efficiency Gas Radiant Overhead Tube Heaters (German-made) have proven their efficiency time and time again, reducing energy consumption by up to 50% when compared to traditional heating systems used to warm medium to large spaces.
These systems are perfect for average to high ceilings in indoor and outdoor commercial and industrial applications and can be used with either natural gas or LPG. Schwank is the world leader in gas radiant heating. After having invented infrared gas heating over 70 years ago, Schwank has become internationally recognised for their state-of-the-art, high performing overhead heating systems.
At the core of these tube heaters is the innovative 'Whisper-Jet' burner with positive pressure fans that create a very long laminar flame reaching far into the tube. This leads to a more uniform transfer of heat which has an immediate positive effect on the energy efficiency of the overall system. The tube heats to around 650°C generating comfortable and safe radiant warmth.
A further advantage of the burner's pressure fan is that it is not exposed to the hot flue gases and therefore has a much better longevity over conventional tube heater fans.