Sauna Design Melbourne from Finnleo Saunas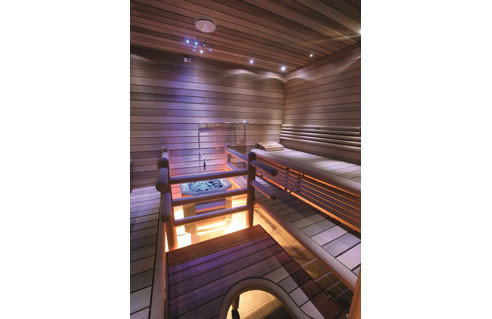 A Finnleo sauna will meet your individual needs. A special design or unique location doesn't mean that you have to settle for less. The options are only limited by your imagination... innovative use of glass windows and doors, unusual angles, unique bench configurations or special lighting - with a Finnleo Sauna, you can achieve them all. Your design, in partnership with Finnleo experience and quality, assures unmatched form and function.
Need design assistance to overcome potential problems! Just call or fax. We'll be there to provide free recommendations.
Here are some basic principles and tips to consider in planning your sauna.
- The interior of your sauna has a timber finish. Our range of suitable timber for sauna use includes Nordic Spruce, Western Red Cedar or Heat Treated Aspen.
- The ceiling inside your sauna should be 2100mm above the floor.
- The minimum distance for a sauna ceiling is 1900mm.
- Every sauna requires ventilation. For more information see Sauna Ventilation
- A sauna has two tiered benches in a step format. The bottom bench is at approx. 450mm above floor level, with the top tier bench at 900mm. The average width of each bench ranges between 450-600mm.
- The sauna door must open outwards. Sauna doors also operate with either a roller catch or door closer. Locks or a standard handle and latch are not permitted on sauna doors.
- Sauna heaters work on cubic volume. The floor area for domestic and small commercial saunas should not exceed 6m2. This allows the installation of a wall mounted sauna heater.
- All sauna heaters regardless of size must be hard wired on their own dedicated circuit.
- The light inside your sauna should be installed below 1700mm above floor level. The switch for the light must be outside the sauna.
- A tap inside your sauna is useful to fill up the water bucket. A floor waste is also recommended for the floor in the sauna.
- The most suitable floor inside the sauna is tile. We also recommend a skirting tile approx 100mm high around the inside perimeter of the sauna.