Preston Hire 5th Largest Maeda Crane Owner in the World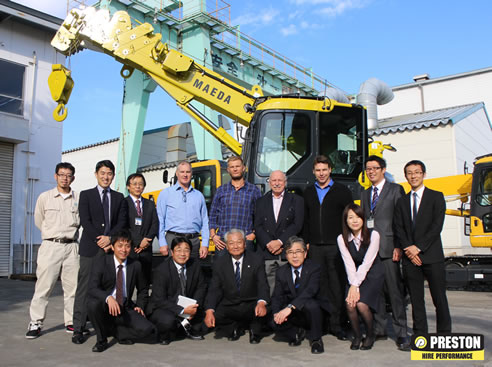 Preston Hire - become 5th largest
owner of Maeda minicrawler crane in the world
Recently national based construction equipment hire company Preston Group became the 5th largest Maeda crane owner in the world and were invited to visit the factory to witness firsthand the manufacturing process of these innovative mini crawler cranes.
Preston Group Managing Director Markus Preston and Group General Manager David Serg joined Australia Maeda distributors Paul & Anthony Heeks of Pace Cranes in Japan to visit Maeda's manufacturing facility located in Nagano, Japan.
During the visit Markus and David witnessed their latest Maeda LC785 Superminicrawler crane coming off the production line painted in Preston livery.