Aquatic Centre Louvre Windows from Safetyline Jalousie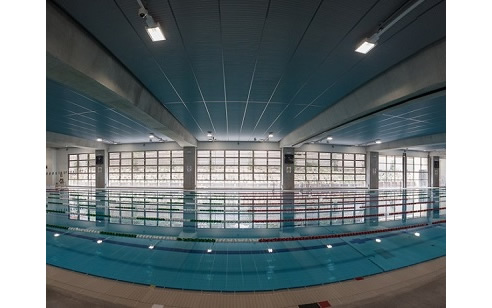 CASE STUDY - The Aquatic Centre at Trinity Grammar School
The Aquatic Centre at Trinity Grammar School in Summer Hill NSW has utilised Safetyline Jalousie Louvre windows to create an impressive floor to ceiling external wall.
Ventilation and security were the main priorities for architects at Gardner Wetherill & Associates when designing the Centre. They also needed windows to fit the module design of the building.
Louvre windows were the only window style considered to achieve the level of ventilation required.
In researching louvre window options, the architect discovered that Safetyline Jalousie's louvre windows were the only choice when it came to meeting the specific security requirements. The inbuilt and impenetrable security feature, unique to Safetyline Jalousie, means that regardless of whether the windows are left open or if the glass breaks, there will be no compromise to security.
The louvre windows are motorised so that when the weather conditions are right they can be opened and automatically shut down the mechanical ventilation system, delivering significant energy cost savings. They are also integrated with an acoustic monitoring system that closes the louvres automatically when the noise level rises to a certain volume.