S06 Heavy Duty Security Doors for Metro BP from Trellis Door Co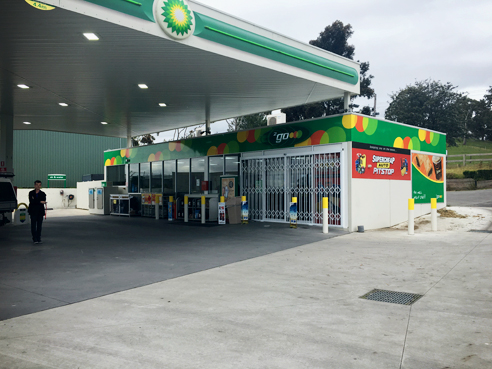 The Australian Trellis Door Company (ATDC) has recently installed its S06 heavy duty security door at the BP Petrol Station at Lysterfield in Melbourne.
Luke Plancke, the retail manager and supplier relations at Endeavour Petroleum, said the group had ordered the security door following two previous break-ins over a 6 week period which caused the Melbourne company major financial losses, as well as serious disruption to their business trade.
In each case the intruders entered the premises by breaking in through the front door, and in one case by reversing their vehicle through the doorway. This follows a spate of similar break-ins to commercial premises in the Melbourne metropolitan area and, as a direct consequence, a major increase in demand for ATDC's security door for Melbourne based businesses.
Luke Plancke was suitably impressed with the service he received from ATDC.
He said; "The service was amazing. I could not be happier, and I'm amazed at how quickly the door was made and installed. I'm very happy with the product."
The S06 security door was chosen by BP for many reasons including the fact that it folds completely out of sight during trading hours but at night provides the high level of security provided by Australian Standards rated security door products. With its tamper resistant triple contact locking mechanism and heavy duty full frame, this security door now provides BP and many other businesses in Melbourne with the level of protection many insurance companies are now insisting on.
To see further information on the S06 security door please visit our website at www.trellisdoors.com.au/products/commercial-security/security-screens-and-screen-doors