Expandable Barricades for Barrangaroo from Trellis Door Co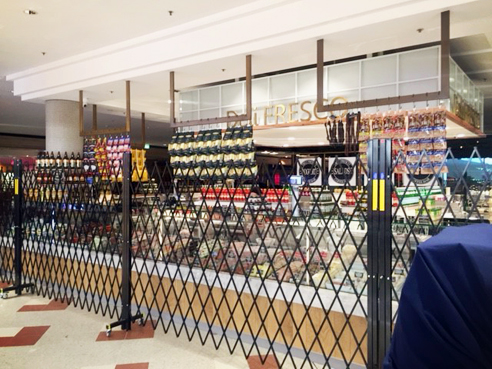 Barrangaroo is located on the north west fringe of Sydney's central business district and spans an area of 22 hectares along Sydney Harbour. It is currently being redeveloped from historical shipping and stevedoring facilities by the Barrangaroo Delivery Authority (on behalf of the NSW State Government) into a world class facility comprising recreational space and parklands, high quality commercial, office and retail space, several new apartment buildings, a hotel and casino. Once completed in 2024 it will have its own metro station and will be home to 3500 residents.
Australian Trellis Door Company (ATDC) has supplied and installed its expandable barricades at various commercial and retail locations across central and southern Barrangaroo. The retail tenancies secured have required temporary lockup with a robust and safe trackless barrier which requires no structural support, is able to be fully mobile when unlocked during trading hours, and is able to traverse multi-angled shopfront configurations over a wide span.