OptiStretch Retractable Conservatory Roof Sunshine Coast from Blinds by Peter Meyer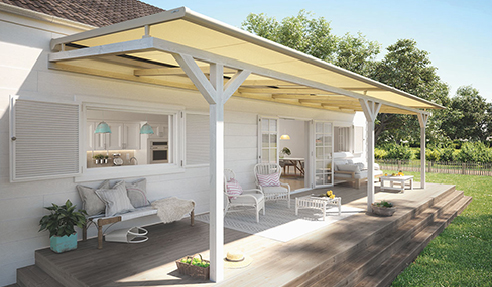 OptiStretch WGM Top is the latest innovation from Blinds by Peter Meyer from their range of retractable conservatory roofs. Its functional excellence and unrivalled aesthetics is a perfect fit for both commercial and residential houses across the beautiful Sunshine Coast - Australia's largest home of tourism.
To establish a warm, welcoming connection between tourists and residents with the delicate sceneries and beaches, patios, pergolas, or verandahs are installed on most Sunshine Coast commercial residences. For its UV protection benefits without compromising visual aesthetics, WGM Top from Blinds by Peter Meyer has become the new favourite retractable conservatory roof in this semi-urban area.
Designed by Weinor, the minimalist stylish appearance of WGM Top flexibly fits a buildings overall facade. This roof's slimline attributes with invisible fixings and clean lines - combined with its large range of frame and fabric colours - will provide an architectural finish for any domestic or commercial application in the Sunshine Coast.
For ideal positioning and optimum fabric efficiency, WGM Top comes with a high-class OptiStretch technology; A firm fabric fixed on all four sides with no gaps. Fabric positioning is obtained without any hanging or saggy fabric edges that usually disrupts the visual effect of this roof post installation.
WGM Top is also available in a basic stretch version. Fabrics are clamped on two sides with a little gap between the side profile. Even positioning of the fabric is achieved through a strong rope tension.
With Somfy Motorisation, WGM Top Retractable Conservatory Roofs are available with timer and sensor options. Heat and light energy can be efficiently controlled with just a touch of a button, even if the owner is away. Automation by Somfy allows for a smooth and controlled movement that guarantees a longer lifespan for WGM Top.
For more information about the WGM Top Retractable Conservatory Roof, contact Blinds by Peter Meyer or visit www.petermeyerblinds.com.au today.