Innovative Extendable Barriers for Drummond Golf by Trellis Door Co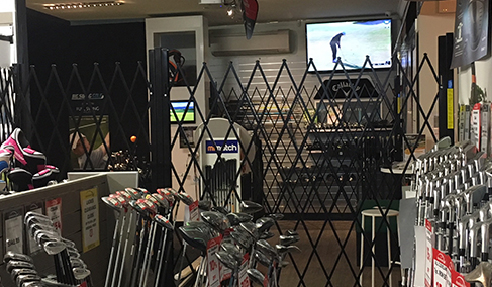 Drummond Golf is the largest golf retailer in Australia with over 50 owner operated stores across the country to have started out as a small retail shop in 1974 in Bendigo, Victoria.
The Australian Trellis Door Company (ATDC) has been installing its extendable barriers at various Drummond Golf stores across Australia, particularly in locations which house Drummond's Big Swing Golf simulators. These simulators are a great add-on to Drummond Golf's business as it allows the company to expand beyond the boundaries of strictly retail trade and permits their customers to hold events, including both staff and social functions all based around simulating the great social game of golf, carried out in airconditioned and licensed premises. Drummond is also able to conduct in-house golf coaching clinics at these premises and are able to conduct these out of hours.
By installing ATDC's flexible extendable barriers, Drummond can protect its stock when the retail side of its business is closed whilst their Golf simulator and event business is open and functioning out of hours. An excellent loss prevention tool.
Further, by strategically placing these barriers in convenient areas of the premises, Drummond can guide the path of travel (ingress and exit) of its out of hours customers, thereby serving as an effective access control device.
These extendable barriers are trackless, portable and mobile. They can span unlimited width apertures and are available in standard heights at 2020mm or 2520mm; they run on a series of heavy duty non-marking thermoplastic bottom castors and have numerous wall mounted and floor fixed locking options.
ATDC's barriers are now sold in Sydney, Melbourne, Brisbane, Adelaide, Perth and Canberra as well as in all regional towns across the country including Newcastle, Geelong, Townsville, Sunshine and Gold Coast regions. In addition, they are also exported throughout the Asia Pacific, South East Asia, The Pacific Islands and The UAE.
For further information on ATDC's premium grade barriers visit ATDC's website at www.trellisdoors.com.au.