Portable Extendable Barriers Fountain Gate from Trellis Door Co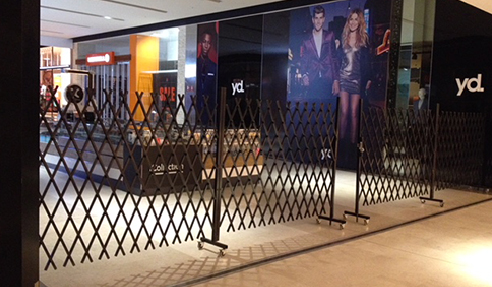 The Australian Trellis Door Company (ATDC) has recently installed multiple extendable gates throughout Westfield Fountain Gate. This is Australia's second largest shopping centre and is situated at Narre Warren in Melbourne's Southeastern suburbs. The project manager for this installation was Daicor Commercial Property Services Pty Ltd out of Malvern, Victoria.
The job description included installing the gates as an access control device and also as a loss prevention tool between multiple tenancies as well as across the food court and also in front of points of entry and exit to various travelators in the centre. This typically follows a trend at many Westfield sites across Australia as well as for many other leading shopping centre groups including those managed and/or owned by LendLease, Stocklands, AMP, Colonial First State, QIC and Vicinity Centres.
ATDC is now Australia's premier supplier of premium grade extendable gates for a number of important reasons:
Firstly, many of the gates are OH&S tested for safety both for their operation as well as for the public. In this regard, there is a fully documented WHS Risk Assessment in place which can be found on ATDC's website at www.trellisdoors.com.au.
Secondly, many of the gates have been tested for compliance with Australian Standards for Dynamic Impact, Simulated Climbing and Foothold Aperture which is of particular significance in many government applications with high traffic areas.
Thirdly, where required, the gates can be constructed to comply with the emergency egress provisions of the Building Code of Australia (BCA) for a keyless exit.
Lastly, ATDC uses only quality grade components in the fabrication of their extendable gates. Rivets are used in a non-pivoting function to promote longevity and the bottom casters are heavy duty non-marking thermoplastic compound wheels. All product comes with a 12-month warranty against defective parts and materials as per ATDC's standard warranty at www.trellisdoors.com.au/warranty.
ATDC's extendable gates are now sold in Sydney, Brisbane, Melbourne, Adelaide, Perth and Canberra as well as in all regional towns including Newcastle, Geelong, Darwin, Townsville, Hobart, Sunshine Coast and Gold Coast. They are also exported throughout SouthEast Asia, The Asia Pacific region, The UAE and the Pacific Islands.
For further information on ATDC's extensive range of extendable gates (steel and aluminium) contact ATDC or visit their website at www.trellisdoors.com.au.