Architectural Expansion Joints vs Architectural Floor Seismic Joints from Unison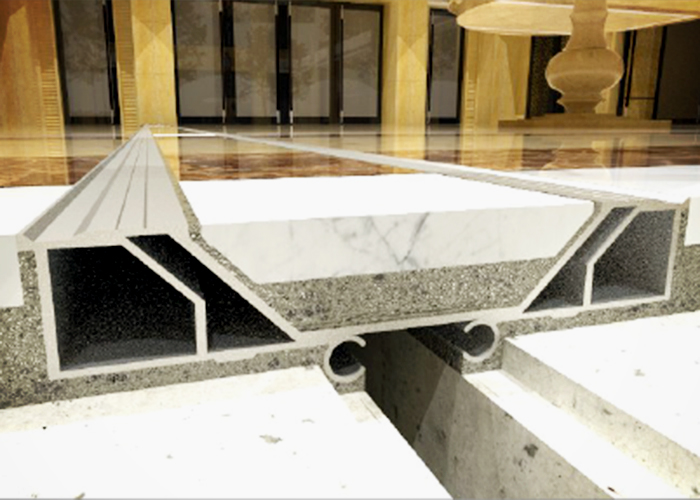 When choosing building joint products, it is important to know the difference between seismic joints and expansion joints. Expansion joints, also known as movement joints, are designed to safely accommodate the structural movement caused by heat-induced contractions or by shrinkage and creep. Expansion joints systems present in the form of coverplates, or seals. They are fitted into or over movement gaps.
Floor seismic joints, on the other hand, are often designed with duel-phase movement, whereby they operate similarly to expansion joint covers by opening and closing during thermal and shrinkage phases. But during a seismic event the coverplates may pop up or out. This will be an instantaneous action. And after the seismic event, serviceability will return. Seismic systems may also accommodate the extra movement through just have a larger movement capacity, like the Unison VtS wall to wall system.
These types of joint systems might be used when constructing a separate wing or any other part of a single building like extensions to hospitals, retail centres, and other building with architectural finishes and large expanses of suspended slab-concrete.
The design of architectural floor seismic joints is often complex. It demands undivided attention and clear focus from all designers and builders to ensure the proper sizing, sealing, safety, fire protection, and provision for the movement of floor and wall covers, fireseals, waterseals, and other seismic components.
SeiMax Architectural Floor Seismic Joints from Unison Joints
With a service record of 17 years, Unison Joints remains the go-to company for architectural floor seismic joints, expansion joints and cover plate systems. The innovators in expansion and seismic joint designs, manufactures and supplies high-quality systems throughout Australia, New Zealand, and the Middle East.
The team of experts at Unison Joints has come up with an innovative design that addresses both functionality and aesthetics - the SeiMax G (Si G) seismic joints from Unison Joints' new SeiMax range!
SeiMax G (Si G)
SeiMax G (Si G) has a deep pan cover plate that houses deep floor finishes, such as terrazzo, granite, stone, paving, exposed concrete, tiles, and other thick floor finishes. It is designed to react to multi-directional movements caused by thermal-change and seismic activity.
The SiG has less stress than other deep-pan, or tile-inlay type seismic floor joints as it doesn't have a rubber or chemical caulking-type seal. This gives the SiG more free movement and therefore less potential stress on surrounding finishes. The SeiMax G (Si G) delivers a seamless integration where the seismic joints are installed with its concealed fixings and sliding cover plate.
SeiMax G (Si G) comes in an anodised alloy finish and is suitable to use in areas where decorative, durable, and corrosion-resistant seismic joints are required like shopping malls, airport terminals, and convention centres.
SeiMax T (Si T)
SeiMax T (Si T) has similar specifications to SeiMax G (Si G). The only difference is that SeiMax T (Si T) has 2 caulked edges. This minimizes visual impact. The high-capacity SeiMax T (Si T) is ideal to use in commercial complexes including retail centres and government buildings where there is light to heavy foot traffic.
SeiMax D (Si D)
The design of SeiMax D (Si D) combines the features of a recessed cover plate and thermoplastic seals. This type of seismic joints is compatible to use in tiles, vinyl, epoxy, and carpet.
SeiMax D (Si D) has a unique smooth ripple seal design to accommodate more movement compared to other flat seals which can only stretch. The seals are made of dual-durometer Santoprene for areas where hygiene is a concern, such as hospitals and clinics. The SiDX can also be used in apartment buildings, museums, retail centres, airport terminals, and other types of commercial or public buildings.
If you are looking for a range of high-quality architectural floor seismic joints for your next project, consult the experts at Unison Joints Pty Ltd. Call or head over www.unisonjoints.com.au today!
Please be advised that Unison Joints is unaffected by COVID-19 as our manufacturing products are not sourced from China.