Freestanding Bath Range Still and Sparkling Collection from Caroma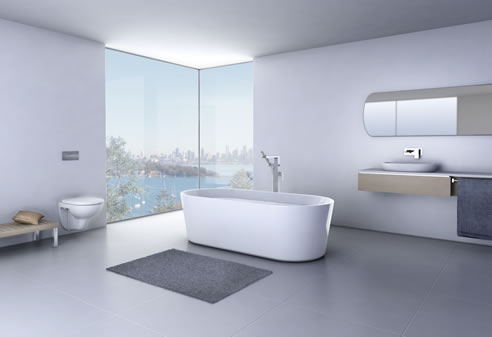 Caroma Launches Still and Sparkling Collection
to Meet Design Trends in Bathing
Caroma's new Still and Sparkling Collection of baths and spa baths offer stunning designs in line with trends and lifestyle needs.
New bath styles in freestanding and island options are the feature of Caroma's new Still Collection. The Caroma Aura freestanding bath offers a sleek, minimalist look making it a beautiful centrepiece for any bathroom space. Conveniently offered in two sizes, the Aura range includes a more compact size for smaller bathrooms looking for stylish product solutions. The new Caroma Deva freestanding bath is set to impress with its minimalist rectangular lines and distinctive geometric look. The Vitality island bath range designed with comfort in mind features soft rectangular styling and integrated headrest design for a relaxing bathing experience.
The Caroma Sparkling Collection hosts a suite of luxurious spa baths available in up to four options of intensity from relaxing to invigorating. Caroma spa baths also include contemporary button panels and sleek, low profile jets, with a smooth face for a modern minimalist look. A hot pump is also as a standard inclusion, making for a more enjoyable spa experience.
Australian designer, Mr Royston Wilson has seen a shift in the way people move around in the bathroom and believes a bath has become more of a personal indulgence rather than when it was used for more practical applications, like bathing children.
Royston said "Baths are definitely making a comeback for what they are intended for - ultimate luxury. The younger generations have rediscovered the bath as their own sanctuary where they can escape, soak and forget the rest of the world. Baths are becoming a focal point within the bathroom."
"Both men and women work hard and they are more health conscious than previous generations. With these characteristics, I find that many now prefer to come home after work and purely relax in their own space, including the bathroom," added Royston.
The Caroma Still and Sparkling Collections responds to these lifestyle trends, with the range now including a selection of freestanding baths, island baths and luxurious spa baths.
To find out more about Caroma's exciting Still and Sparkling ranges please visit http://spasbaths.caroma.com.au or call 13 14 16.